Assaults cost Welsh police 1,700 days off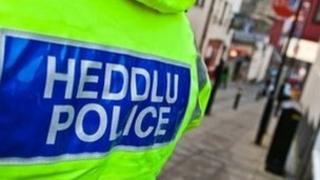 More needs to be done by prosecutors to protect police officers on duty from attack, say two senior politicians from across the political divide.
BBC Wales found 1,735 working days were lost over three years at three of the four Welsh forces due to assaults.
Labour's shadow policing minister David Hanson said the figures were worrying while Tory MP David Davies said prosecutors needed a tougher stance.
The Home Office said assaults on police officers would "not be tolerated".
The figures showed 494 days were lost in Dyfed-Powys over three years for assaults, 568 in Gwent and 673 in the South Wales force. North Wales refused to provide figures.
The total cost was estimated at £189,800.
Mr Hanson, the Labour MP for Delyn, said: "I think that's very worrying for both the police officers who are putting themselves in danger but also for the fact that we are losing so much time due to attacks on police.
"We need to look at this and look at how we reduce attacks and punish those who undertake such behaviour."
The figures come after the UK government's spending review in 2010 led to plans to cut central police funding by 20% by 2015.
It means the Welsh forces are looking at making total savings of £96m.
Attacking a police officer is seen as an aggravated offence in the eyes of the law, and carries a prison sentence of up to six months.
But Monmouth MP David Davies said he felt that the Crown Prosecution Service (CPS) does not take assaults on officers seriously enough.
Speaking as both the chair of the Welsh Affairs Select Committee and a special constable, the MP said officers he knew lacked confidence in the CPS.
"I think it is always worrying to see that police officers are regularly being assaulted in the course of their duty," he said.
'Biting'
"I'm not even sure those figures tell the whole story, because often officers who are assaulted won't be taking time off sick and so they won't show up in the official figures."
He said most of the officers he worked with as a special constable had been attacked at some point in their career.
"Often it's not the kind of assault you think of. Very often it is people biting or spitting in people's eyes," he said.
"That's the sort of thing that officers get worried about and they want to see action taken against those who commit those kind of crimes.
"Police officers are not confident that the CPS is always going to chase up people who have attacked them - I'm afraid I've even heard them referred to as the 'criminal protection service'."
Jeff Mapps, chairman of the Police Federation in Wales and also in Gwent, said the figures were a cause of concern.
"Officers deserve to be protected - we can't have the protectors becoming victims themselves," he said.
"A message needs to be sent out to anyone who may be thinking of assaulting a police officer or any of the emergency services."
Mr Hanson has also raised concerns that North Wales Police did not provide any figures.
It refused to release details under a Freedom of Information request from BBC Wales, saying that the information was not held by the north Wales force.
Mr Hanson said that as a result of that response he had tabled a Parliamentary question to the Home Office to "ensure that all forces maintain records of injuries to police officers injured in the line of duty".
CPS Cymru-Wales chief crown prosecutor Ed Beltrami said: "We can only consider bringing criminal charges in cases where an allegation is formally referred to us by the police. It may be that all of us in the criminal justice system need to look at whether these incidents are being reported and referred in the first place."
A Home Office spokesperson said: "Police officers put themselves in harm's way to protect the public and in turn it is vital that the law protects them.
"Assaulting a police officer is totally unacceptable and we need to send a strong signal that it will not be tolerated. That is why assault on a police officer is considered an aggravated offence, meaning that the court should impose tougher sentences."