Muscular dystrophy: Calls for more specialist care for teenage sufferers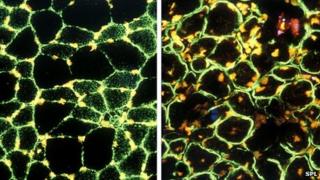 Families of teenagers with a muscle wasting disease in south Wales claim sufferers are being let down as they move from paediatric to adult NHS care.
It is said young people with muscular dystrophy are losing access to vital specialist physiotherapy.
Families also claim teenagers are receiving poor emotional support at key times, including around diagnosis.
The Welsh government says significant improvements have already been made.
Muscular dystrophy causes muscles to weaken and waste over time, leading to increasing disability and often significantly shortening life-expectancy.
The Muscular Dystrophy Campaign said 3,400 people were living with rare muscle-wasting conditions in Wales. More than 70,000 people in the UK are affected by one of the 60 forms of the condition.
'Bombshell'
More than 50 patients and their families will meet at the Liberty Stadium in Swansea on Friday at the Muscular Dystrophy Campaign's south Wales neuromuscular conference to demand new specialists in the NHS to address their concerns.
Backed by the charity, they are calling for adult neuromuscular physiotherapists to help keep patients' muscles functioning for longer, and for emotional support so that "families are not left to cope alone with the bombshell of diagnosis".
The Welsh government said significant improvements had already been made, including the creation of "multi-disciplinary teams which review individual patient needs to ensure there is appropriate support is available".
A spokesman said care advisors and a specialist transitional care neuromuscular physiotherapist had also been appointed.
"Public Health Wales has undertaken a needs assessment to inform the development of services and to identify any gaps in the current skill mix of staff," added the spokesman.
"The higher level of support required by children during phases of growth is reflected in the differing levels of therapy recommended at their stage of life.
"Health boards are working together to deliver the service improvements needed for these patients which have complex needs."