Colwyn Bay Pier: Ownership battle ends up at High Court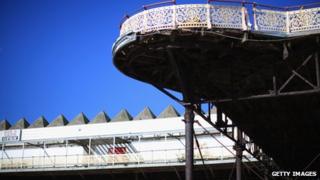 The former owner of Colwyn Bay pier has told the appeal court that the law means he should get it back.
Steve Hunt owned the Grade II-listed structure until he was made bankrupt in 2008 in a dispute over unpaid council tax and business rates.
In an appeal at the High Court in London he argued that the Victorian pier should have come to him, three years after the bankruptcy.
Conwy council disputes his claim and judgement was reserved.
Mr Hunt also claimed at the hearing that since he had previously lived on the pier, the court should have returned it to him.
His mother, Gloria Hunt, claimed that since she had paid over part of the money towards buying the pier in 2003, she still had an interest in the structure which was not affected by her son's bankruptcy.
Mr Hunt and his mother had previously taken their case to Cardiff County Court in 2012 but lost their applications to have the pier transferred to them, in what is called a "vesting order".
He told the High Court: "This is a very unusual situation - believed to be unique.
"No-one denies that this is an unusual state of affairs but the principle must be the same as in other cases where a property is used for business and residential purposes.
"(After a bankruptcy) no law says that you can only get the living part back."
'No practical benefit'
Colwyn Bay pier once hosted performances by stars like Elvis Costello, Morecambe and Wise, Harry Secombe and Motorhead.
But it has been closed since 2008, and its condition has been getting worse.
Conwy council disputes Mr Hunt's claims and says it owns the pier.
It says that three years after Mr Hunt's bankruptcy, the pier passed to the Crown Estate and the council signed a deal to buy it in March 2012.
The council submitted an application for lottery money to restore the pier earlier this year.
Louis Doyle, representing the council, told the court: "This vesting order application is being used as a platform for all manner of complaints.
"We say the pier isn't a dwelling house, even if it includes one."
"The dwelling unit isn't fit for human habitation so there's no practical benefit in acceding to this application."
The judge, Sir William Blackburne, sitting as a judge of the High Court, said he would give his decision in writing as soon as possible.
The council has been looking for lottery funding towards a £10m revamp of the pier, including an arts centre.