Wales rugby centre Jamie Roberts qualifies as doctor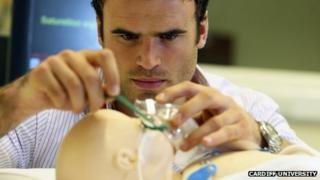 After a season in which he helped Wales win the Six Nations and also secured a new club in France, Jamie Roberts has finally achieved his other career goal and qualified as a doctor.
It took eight years of study while performing at rugby union's top level with the Cardiff Blues and his country.
He received his final medical exam results on Monday, becoming Dr Roberts.
The 26-year-old, who studied at Cardiff University, said his gut reaction was one of relief.
The player joins a list of illustrious Welsh rugby internationals to have juggled their medical careers with sport - including JPR Williams, Jack Matthews and Gwyn Jones, who all played top-flight Welsh rugby.
Roberts will graduate in the summer before heading off to join Racing Metro in Paris.
"My nickname amongst team-mates has for some time been Doc, and I've always felt like a little bit of a fraud," he said.
"It's nice that I'll finally be able to call myself a doctor."
Roberts said he was now looking forward to a few lie-ins after lots of early mornings in the library before and after training.
"It's been tough but it's been worth every second to achieve one of my main goals in life," he added.
"I am very proud to have finally come to the end of my eight years at Cardiff University's School of Medicine.
"It's a been a long, hard road and I would like to say a huge thanks to the school of medicine for allowing me to undertake my studies, part-time.
"I pay tribute to the dean of medicine, Prof Paul Morgan, and all in the undergraduate office for allowing me to balance my studies and rugby and a special thanks to Dr Andrew Freedman for his personal support over the last four years."
Prof Morgan said: "The academic rigour and intensity of studying for a medical degree is challenging for most students - especially for someone juggling with a life as a professional rugby player.
"Jamie would be the first to admit it's been an extremely challenging time but nevertheless it is clear from my conversations with him that it has been an enjoyable experience.
"I am very proud of his academic and sporting successes and pleased to have played a role."
Cardiff vice-chancellor Prof Colin Riordan said: "Cardiff University is rightly proud of our medical students and their successes.
"Balancing the demands of top-class sport with the intensive study required for medicine is not easy, particularly in rugby's professional era.
"It is a tribute to Jamie that he has successfully completed that journey."