Wales planning system must boost economy - Gorwel report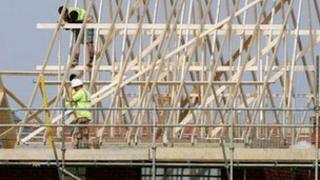 The planning system in Wales needs to do more to promote economic development, according to a report.
The document, commissioned by the Federation of Small Businesses Wales, makes seven key recommendations.
The study, the first for the centre-right think-tank Gorwel, includes a suggestion that planning officers have a duty to promote economic activity.
A planning White Paper and draft Welsh Planning Bill is due to be published later this year.
The report said much of the discussion around the future of the planning system focused on aspirations that it "cannot realistically" meet on its own, such as affordable housing or creating a solution to global warming.
It also warns that focussing on these issues may come at the expense of the needs of businesses in Wales.
"If we are to encourage economic growth in Wales then we need a planning system that works in the interests of small businesses," said Janet Jones, Welsh policy unit chair for the Federation of Small Businesses.
"We would encourage policymakers in Wales to carefully consider this report with that in mind," she added.
Gorwel's president, Conservative AM David Melding, said the planning system had a key role to play in Wales' economic future.
"Efficient planning regulations are a key component of a health enterprise culture," he said.
"Businesses require clear and prompt decisions based on readily understood policies.
"Planning authorities must strive to be enablers and advisors rather than the bouncers of the planning system."