Sir Tom Jones to play legendary LA club the Troubadour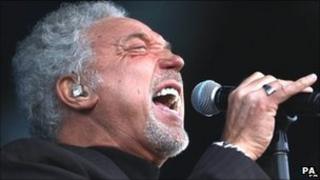 Sir Tom Jones is to perform at a legendary Los Angeles nightclub as part of a small tour in America.
The 72-year-old star will perform at the Troubadour, a venue famous for early gigs from fellow greats Sir Elton John, Bruce Springsteen and Bob Dylan.
He will also take to the stage at Philadelphia's Theatre of the Living Arts and the Bowery Ballroom in New York during the tour in May.
It will follow Sir Tom's latest stint as coach on BBC talent show The Voice.
The gigs were confirmed in a statement on Sir Tom's official website.
The dates, which run from 11 to 18 May, are being held to mark the US launch of Sir Tom's latest album Spirit In The Room, his second "back-to-basics'' collection of blues numbers.
The short US tour will see Sir Tom perform intimate gigs at venues more often frequented by up-and-coming rock bands.
Founded in 1957, the Troubadour on Los Angeles' Santa Monica Boulevard famously helped establish the careers of numerous bands and singers.
Artists including James Taylor, Carole King, the Eagles, The Byrds, Joni Mitchell, Van Morrison and Guns N' Roses played gigs there in their early days.
Philadelphia's Theatre of the Living Arts was originally a cinema, while New York's Bowery Ballroom was built as a shop in the 1920s.
Most recently Sir Tom has performed in front of millions of viewers on the second series of The Voice on BBC One, in which he returned as a coach for aspiring vocalists alongside Jessie J, will.i.am and The Script's Danny O'Donoghue.