X-ray machine and beds stolen from hospitals in Wales
By Brendon Williams
BBC News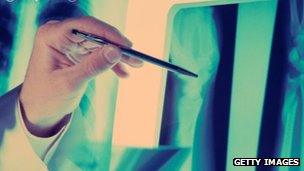 Beds, baths, and even an X-ray machine are among equipment reported stolen from hospitals across Wales.
Wales' seven health boards were asked for a list of stolen property during the last five years under a Freedom of Information (FOI) request by BBC Wales.
The most expensive theft was £78,000 worth of cable. Across Wales, the list also includes wheelchairs, a Philips X-ray machine and a £4,128 Transit van.
Campaign group Patient Concern said hospital security was a big problem.
The health boards were also asked for details of all recorded thefts and their values.
They were also asked who met the cost of replacing the equipment, and whether patient care was affected.
Dr Paul Worthington, speaking on behalf of the Board of Community Health Councils in Wales, said: "We are reassured that patient care isn't affected."
However, he added: "Any money that has to be spent on replacing stolen items or equipment from hospitals is money that can not be spent on patient care."
He urged patients to return borrowed medical equipment such as crutches.
Cardiff and Vale University Health Board
Cardiff and Vale suffered the most expensive theft, in 2011/12, when £78,207.60 worth of cable was stolen from the University Hospital of Wales, Cardiff, and Llandough Hospital in the Vale of Glamorgan.
In December 2011, Llandough was forced to postpone more than 80 operations due to cable thefts.
However, in its FOI response, the board "there was no impact" on patient-related activity.
Among other items stolen from Cardiff and Vale were seven laptops in 2007/08, and five baths with fittings worth £2,500.
In 2008/09, a £4,000 wheelchair was stolen and last year five hospital beds worth £5,000 in total were taken. Several other computers, laptops and other smaller items were also taken.
The health board bore the cost in all cases, except the cable thefts, where the Welsh Risk Pool - effectively an insurance scheme for health bodies - covered above an excess of £25,000.
Hywel Dda saw a £4,128 Transit van stolen in 2010, along with a Philips X-ray machine. It said the X-ray machine had "no monetary value" as it was 30 years old and was obsolete.
Other thefts include eight oxygen cylinders, a television worth £499 and a £700 jet washer earlier this year.
Costs were met by hospital funds and patient care was not affected.
Cwm Taf did not supply any values, but said thefts included an "ambulance liaison phone" from Llwynypia Hospital, a Stihl blower, lightning protector strips from buildings, a trailer and 50 flag stones "stolen from the back of the geriatric day unit" at St Tydfil's Hospital.
It said losses were claimed through insurance and patient care was not affected.
Abertawe Bro Morgannwg did not supply any values, but said there were 255 reported thefts since 2008 - mostly patient property - but including some IT equipment, computers and TV equipment.
It said it had no information on how the losses were met, and said patient care was not affected.
Betsi Cadwaladr did not supply monetary values, but a list of lost or stolen items includes: wheelchairs, cameras and a sat-nav, oil stolen from pipes, a flat-screen TV, laptops, mobile phones, a BM machine, oxygen cylinders, lead and a wifi system.
Powys did not supply a list of incidents, but said some suspected thefts had occurred. It does not keep records of the financial impact, and said patients were not affected.
Aneurin Bevan said thefts included "a television, computers/laptops, small amounts of personal cash and stationery items". It did not provide values, nor details of who met the cost and whether patients were affected.
Roger Goss, co-director of Patient Concern, said: "The biggest worry for patients is the disappearance of their medical records via theft because records are increasingly held on computer equipment and are easily nicked.
"Of course, hospital security is very difficult given the number of people legitimately on the premises. That's a big problem.
"But on the other hand, you don't want barriers and armed guards at the entrance."
Related Internet Links
The BBC is not responsible for the content of external sites.