Measles: Cardiff and Vale MMR clinics 'as precaution'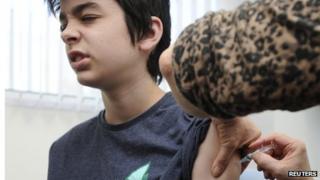 Drop-in MMR vaccination clinics are being held in Cardiff and the Vale of Glamorgan as a precautionary measure in light of the Swansea measles epidemic.
Health officials say there is no outbreak in Cardiff and the Vale but the clinics on Saturday are being held in the light of the 620 cases in Wales.
The sessions at two hospitals will be for children and teenagers who have not had the two necessary MMR vaccines.
Around 13,000 under-19s are estimated to have not had the jab in the area.
The clinics, which are not for children under 13 months, will be held at the outpatients department at Cardiff Royal Infirmary and at the children's centre at Llandough Hospital near Penarth.
No appointment is necessary for the sessions, which will run from 10:00 to 16:00 BST on Saturday.
Dr Tom Porter, consultant in public health medicine for Cardiff and Vale University Health Board and Public Health Wales (PHW), said: "We are starting to see an increase in the number of people who have had the two jabs for MMR in Cardiff and the Vale, which is encouraging.
"But the number still falls far short of what is needed to stop the spread of what can be a very serious and potentially fatal disease, so it is important everyone is protected."
The sessions come after large crowds turned up for last weekend's hospital drop-in sessions in the outbreak areas of Swansea, Neath Port Talbot and Bridgend.
About 1,700 people were vaccinated during those sessions, which health officials called an "excellent" response.
The clinics will be held again this Saturday at Morriston and Singleton hospitals in Swansea, Neath Port Talbot Hospital and the Princess of Wales Hospital in Bridgend.
PHW has urged parents to use the clinics or to make an appointment with their GP to ensure their children are vaccinated.
Dr Marion Lyons, director of health protection for PHW, said there were plenty of stocks of the MMR jab available.
"A simple and safe jab will protect your child's health, could save their life, and will help protect other children too," she added.
Although the epidemic is based in Swansea, cases continue to be reported across Wales.
Most are in the Abertawe Bro Morgannwg health board region, which also includes Neath Port Talbot and Bridgend.
There are also cases in Powys and in the Hywel Dda Health Board area, which covers Carmarthenshire, Ceredigion and Pembrokeshire.
Typical symptoms of measles include fever, cough, conjunctivitis and a rash. Complications are quite common even in healthy people, and about 20% of reported measles cases experience one or more complication.
These can include ear infections, vomiting and diarrhoea, pneumonia, meningitis and serious eye disorders.