National Museum Wales: Record visitor numbers total 1.75 million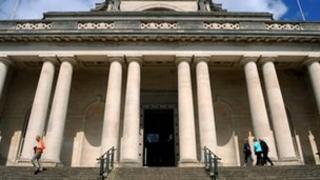 A record 1.75 million people visited the seven National Museum Wales (NMW) sites in the last year.
The National Museum Cardiff, National Waterfront Museum in Swansea, National Wool Museum in Dre-fach Felindre and the National Roman Legion Museum in Caerleon all had highest ever figures.
NMW say free entry, which has been in force since 2001, is behind the rise.
But a leading tourism expert says poor weather and a marketing campaign funded by the Welsh government is also key.
"I'm not surprised they are reporting these figures," said Professor Terry Stevens, a consultant on strategic tourism.
"But in tough economic conditions, when the consumer has a straight choice between a free product and a paid for product, they are going to choose a no charge for admission attraction.
"Also because the museums are perceived as being indoors they will attract people trying to escape poor weather."
He added: "Last year the National Museum was given additional money from the Welsh government for marketing.
"They had a very aggressive marketing campaign paid for by the Welsh government when the private sector was struggling."
However, a spokesman for NMW said it had not received extra money for a marketing campaign and had in fact seen a cut in its funding from the previous year.
Earlier this year NMW announced about 35 permanent jobs are to go as part of restructuring and a further 160 posts will be affected among the 650 museum staff.
The museum said the current financial climate posed unprecedented challenges for every public sector organisation in Wales and the museum was no exception.
The museum has faced a reduced budget and must find £2.5m in savings over three years.
Other museums that fall under the NMW umbrella are the National History Museum in St Fagans, National Coal Museum at Big Pit in Blaenavon and the National Slate Museum in Llanberis.
But David Anderson, director general of NMW, said the latest figures were "testimony to the quality of the service delivered by the museums and the true value of the Welsh government's free entry policy".
He added: "Breaking records such as these motivates us to continue to deliver for the people of Wales.
"We must remain relevant to all, not only appealing to our existing audiences but also attracting new visitors to interact with the national collections, which after all belong to the people of Wales."
Culture Minister John Griffiths described the figures as "fantastic".
"Our museums have an important role to play in profiling the culture and history of Wales locally, nationally and internationally," he said.