Static caravan VAT manageable, says industry in Wales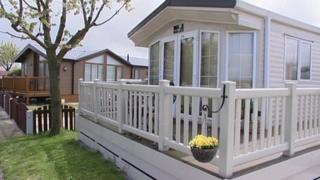 The caravan park industry in Wales says the new 5% VAT levied on static caravan sales will hit trade but they expect the effect to be "manageable".
Static caravans are now subject to the sale charge, which already has to be paid by mobile home owners.
The initial proposal was 20%, but was cut after lobbying from the caravan industry with support from some 70 MPs.
Huw Pendleton, of Pembrokeshire Tourism, said: "It's a minimal cost implication thanks to the campaign."
The so-called "caravan tax" caused controversy when it was first unveiled in the 2012 Budget at a rate of 20%.
Treasury officials said the measure was designed to address a "tax anomaly" which meant VAT was levied on touring caravans, but not on static caravans.
The new rate was lowered from the 20% levy initially proposed by the government following widespread opposition from MPs of all parties and the industry.
Caravan makers have said the tax is "something we could have done without".
Mr Pendleton, who operates three caravan parks and is also director for the caravan sector for the Wales Tourism Alliance, said a typical new caravan would cost around £30,000.
Customer confidence
He said: "There is an implication in terms of cost but I hope this is going to be manageable.
"It certainly would not push ownership beyond the reach of ordinary people."
But Steve South, whose independent site near Aberystwyth was hit by floods in 2012, said: "It makes issues really worse."
Mr South said he was still struggling to recover customer confidence after the floods.
He said: "Our customers are normal family-type people and you can't just be taking more and more out of them or they will just be giving the caravan up.
'Negative effect'
"It's not as bad as they were initially thinking, but in the current economic climate, it makes issues really worse.
"The government thinks caravan parks are a money pit and I can assure you they are not. It's really hard work."
One of the largest park site owners in Wales, the Haulfryn group, which runs seven sites across north Wales, said it was confident that its parks' facilities would still make buying a caravan appealing.
It said: "We are assured that our offering will see us through these changes."
John Brookshaw, managing director of Plassey Leisure Park, a caravan site near Wrexham, said: "Any VAT increase is going to have a negative effect on holiday homes especially when the recession is hitting families already, but at least 5% is better than 20%.
"It is something we could do without. It's hard in any business now in the down turn and the 5% VAT is just an added blow."