Recall dishwasher fire kills family dogs in Llanfyllin, Powys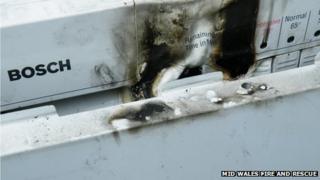 Two dogs have died in a kitchen fire which is understood to have been started by a dishwasher.
It happened at a family home in Llanfyllin, Powys, while the owners were out.
It comes after German manufacturer Bosch recalled 632,000 dishwashers because of a potential overheating issue in the control panel.
A Bosch spokeswoman said it had repaired 163,000 machines but wanted to hear from remaining customers.
Mid and West Wales Fire and Rescue Service said it had attended three fires involving Bosch dishwashers in recent months.
Ryland Williams, station manager, who attended the fire at Llanfyllin on Wednesday 20 March, said: "In Wednesday's incident the occupiers had put the dishwasher on before leaving home for the day, only to return to find their home severely damaged."
The two other fires happened in Llandeilo and Narberth, Carmarthenshire.
Back in 2011, Bosch announced the recall of models that were manufactured between 1999 and 2005 and have batch numbers between FD7901 through to FD8504.
Those who do not have a number between this range are not affected.
Bosch said it has made every attempt to contact owners of the affected model to rectify the problem and has managed to locate 163,000 of them to date.
A spokeswoman said only older dishwashers have the potential problem and customers can check online if their machine is affected and needs free repair.