Ambulance targets missed for ninth month in a row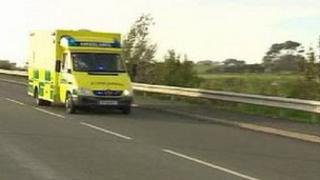 Wales' ambulances missed a response time target for life-threatening calls for the ninth consecutive month.
Statistics from February show 60.8% of emergency responses arrived within eight minutes, missing the Welsh Ambulance Service target of 65%.
Welsh Conservatives called the figures disappointing and the target was lower than in other areas of the UK.
The ambulance trust said the Welsh NHS had faced "significant pressures" which contributed to its own difficulties.
Despite missing the target again, the response times have improved for the second month running climbing from 59.6% in January and 56.1% in December.
The number of emergency calls at just over 32,500 was down 1.2% on figures for February 2012.
More than 13,000 of those were Category A which are considered immediately life-threatening.
Figures show only four council areas - Cardiff, Denbighshire, Wrexham and Conwy - hit the Wales-wide target.
However the unitary authorities themselves have a response target of 60% of which 11 achieved this, up from nine in January.
'Tough challenge'
Darren Millar, Conservative spokesman on health said: "These figures are very disappointing and show ambulances failing to arrive at the scene of an emergency as quickly as patients expect.
"For nine consecutive months, the ambulance response time target of 65% has been missed, despite it being consistently lower than the targets set in other parts of the UK.
"Despite the best efforts of paramedics and other ambulance staff, the service is failing to deliver the efficient lifesaving care that patients rely on when they are involved in a sudden life-threatening incident.
"The new health minister has a tough challenge in getting to grips with the persistently failing service left to him by his predecessor."
He called for a swift conclusion to a current ambulance service review.
A Welsh Ambulance Service Trust spokesperson said: "The healthcare system across Wales has faced significant pressure over recent months which has contributed to difficulties faced by the ambulance service to get to emergency calls within our target times.
"We have experienced a high increase in delayed handovers at hospitals and this in turn has impacted on our ability to respond in a timely manner to other emergency calls.
"We would like to reassure the public that the trust is firmly committed to delivering the improvement aims of its 'Working Together for Success' modernisation programme in partnership with local health boards and will continue to use our resources in the best possible way to improve our services and performance for the people of Wales.
"We also ask the public to continue to support us by only dialling 999 and attending emergency departments for life-threatening and serious illnesses and injuries."