Rise in Spaniards moving to Wales in search of work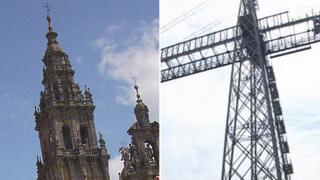 Record unemployment in Spain has sparked an influx of Spaniards seeking work in the UK, with a rising number moving to Wales.
The Spanish jobless rate stands at 26%, but it is the under-25s who have been hit hardest, with 55% out of work.
Last year, 30,000 national insurance numbers were issued to Spaniards in the UK looking for work, a 25% increase on 2011.
BBC's Eye on Wales programme has been looking at those moving to Wales.
Membership of a Facebook group called Espanoles en Cardiff has seen its numbers increase fourfold in the first three months of this year to almost 350.
The programme spoke to three Spaniards who have decided to make a new life in Wales and found out why they came and what kind of welcome they received.
Alfonso Fernandez Barragan, 46, chef
Alfonso, a 46-year-old chef from Malaga, arrived in Cardiff last autumn after his online business began to lose money and offers of work in local hotels dried up.
He has since found work in a restaurant and hopes that his wife and 12-year-old daughter will eventually be able to join him.
"We thought at home that we will use our savings to look for something abroad, not in Spain, because things are not very good there and we don't think they're going to be better in the next few years," he said.
"At the beginning we thought about London. I visited and stayed for 15 days, but I didn't like it. It's too expensive, it's stressing. It's a difficult city."
"Then we decided to move to Bristol. But after talking to people we changed our minds and decided to come to Cardiff. They told us Cardiff was a very nice city.
"I like Cardiff a lot. It's a very open city, you have open spaces and parks. It's not noisy and the people are very welcoming. Since I've been here I've not felt rejected or excluded, not at all. I'm happy.
"Young Spaniards know that to get a job back home - even if you have a degree or are an architect or engineer - it is very difficult and that it will be on a minimum salary for years because there's no work for professionals. That's why they are moving to Germany and the UK.
"People moved from Spain in the 1960s because of the dictatorship and all that, but it was a different kind of people. It was people without studies going to work in factories.
"Now the problem we have is that the people leaving Spain are professionals, very highly-qualified, and it's a problem because who is going to make things better if the best ones are leaving the country?"
Ana Rodriguez, 27, waitress
Ana, 27, comes from the port of Ferrol in Galicia in north western Spain, and has been living in Newport in south Wales since January.
"In Spain, day by day, it's getting worse. We don't have opportunities in our country and we needed a change, needed to try a new life in another country.
"I'm studying to improve my English because it's obvious that I need to and I have found a job in a restaurant.
"In Spain I worked in hotels and restaurants as a wine taster, here I'm a waitress. People may be need to repeat their order once or twice but they are friendly and try to understand you and make you understand them.
"I like living here but we have a different routine in Spain. For example, in Spain we have lunch at 2pm and dinner at 10pm. I've tried to change my routine. I love tea breaks, it's a lovely tradition.
"The people are different. In Spain we are closer, here people are more reserved.
"I hope that in time I do go back to my house. I miss it."
Raul Cartelle, 34, unemployed
Raul, 34, is Ana's partner and also from Galicia. He is a lathe operator by trade but currently unemployed. He is still looking for work while taking language classes to improve his English.
"It's been my dream to come here since I was 20. I always knew that learning English was very important for jobs and for life. Travel is important to me and knowing other cultures.
"I'm studying to improve my English. The accents of Welsh people are very difficult for me because they are very strong.
"Other accents are easier for me because when you see a movie you are hearing American accents but you rarely find Welsh accents in movies.
"I'm looking for a job too but I can't find any jobs in my profession but I'm trying every day to find a job.
"I see a big difference in workers' rights. It's worse in Spain - businessmen just want to hire cheap labour but here it seems to be different.
"In Spain you are expected to do unpaid overtime, here you do your job in eight hours, you don't stay 10 or 12 hours."
Eye On Wales is on BBC Radio Wales on Sunday 31 March at 13:30 BST.