Couple in car stuck in snow drift near Bala overnight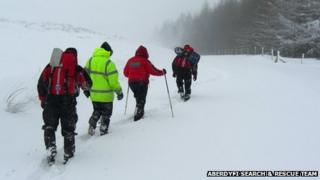 A couple were trapped in their car in a snow drift for 18 hours before being led to safety by rescuers.
The pair became stuck at 14:00 GMT on Friday on the B4931 near Bala in Gwynedd.
They were eventually reached by a search and rescue team at 08:00 GMT on Saturday before a challenging walk to safety.
Rescuers said the pair had been following sat-nav instructions and warned motorists to use "common sense".
The two motorists had become stuck on the remote and narrow moorland road at the southern end of the Berwyn range.
An attempt to reach the motorists by 4x4 had failed because of extensive drifting on parts of the road.
Aberdyfi Search and Rescue Team were alerted to the incident early on Saturday and decided walking the motorists off the hill in the dark would be more hazardous than leaving them in their car.
The volunteers from the team set out at 04:30 GMT in what were described as "very testing driving conditions", with the aim of reaching the pair after dawn.
The rescue party made its way as far as possible up the closed road before proceeding on foot.
Widespread disruption
Conditions on the moor were said to be extremely difficult with high winds creating drifts above head height and engulfing the entire road.
The stranded car was located at around 08:00 GMT.
The pair were provided with clothing to walk off the moorland before arriving in Bala by about 10:30 GMT.
"It is another reminder of the need to apply some common sense when following sat-nav instructions in a rural and mountainous area such as ours, especially with the prevailing weather conditions," said Aberdyfi Search and Rescue Team member Graham O'Hanlon.
"Fortunately, these people were well enough prepared to sit out their ordeal in a degree of comfort, but it will be some days if not weeks before they see their car again."
Snowfall on Friday and Saturday caused widespread disruption to roads and rail travel in parts of north Wales.
Emergency services said many roads were treacherous and people should only travel only if necessary.
North Wales Police who were called out to help stranded motorists in some cases found themselves in difficulties coping with the conditions.