Robin Friday movie to tell tale of football 'rock star'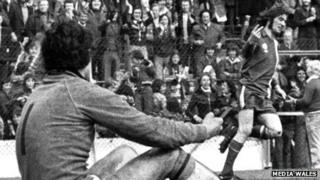 He was one of the most gifted footballers of his generation, scoring a goal dubbed the best ever by a renowned referee, but it was Robin Friday's crazy lifestyle that secured cult hero status.
During a pre-Premier League 1970s where the violence and drinking exploits of players could sometimes match the extremes of the hordes on the terraces, wild behaviour was hardly unusual.
But while the likes of George Best and Stan Bowles generated thousands of column inches for both their skill and excess, many will argue it was this less celebrated player who typified an era far removed from today's bland professionalism.
Friday, who played for Cardiff City and Reading, has already been immortalised in a book called The Greatest Footballer You Never Saw, but he is about to reach a much wider audience.
A movie based on the book is being put together by a cross-Atlantic team which includes Mike Young, a Cardiff City fan perhaps best known in Britain as the creator of children's cartoon Superted.
But the story of Friday certainly does not have a happy ending.
His life was cut short after years of drug and alcohol abuse and he was just 38 when he died in 1990.
Mr Young, originally from Barry but now running one of the largest independent animation studios in the USA, has first hand memories of the two sides of Friday.
"I actually watched Robin Friday play," he said.
"The very first game he played [for Cardiff] was against Fulham and Bobby Moore. It was supposed to be George Best too - thousands showed up, but George Best didn't!
"Then Robin Friday gave Bobby Moore a right chasing. He scored two goals. Bobby Moore was a veteran by then but was still known as the World Cup captain and this lad was taking him apart."
But that was not the only notable action of the day.
"Robin had been met on the train from London [where he had lived] in handcuffs. He had been caught trying to travel down with a platform ticket!" said Mr Young.
Friday had only played 21 games for Cardiff when he prematurely retired from the game but his notoriety and skill is still discussed by older fans today.
He is particularly remembered for famously flicking a "V" sign at Luton goalkeeper Milija Aleksic after scoring an important goal for the Bluebirds.
Welsh band Super Furry Animals even used a photograph of the incident on the sleeve of one of their songs.
Former referee Clive Thomas, a man who had seen the world's best players of the era, remembers officiating a Reading game against Tranmere Rovers in which Friday scored a wonder goal.
It was a piece of magic from 35 yards out that Thomas described as "even up against the likes of Pele and Cruyff that rates as the best goal I have ever seen".
But it was also the way Friday - who was voted all-time cult hero at both Cardiff and Reading - lived his life that captured the imagination.
Even today, the latest edition of popular football magazine FourFourTwo mentions Friday on its front page among players dubbed "The Unmanageables". There is talk of Friday "turning up drunk to training carrying a swan..."
Journalist and author Paolo Hewitt, who co-wrote The Greatest Footballer You Never Saw and has worked on the screenplay for the film, said Friday drank heavily, took drugs and was a womaniser.
"If George Best was football's first pop star then Robin was the first rock star," he told BBC News.
"He loved Janis Joplin. The music is an important part of the film."
But there was more to him than that, said Hewitt, a former music journalist with the NME and Melody Maker.
"It was his rebelliousness. I'm a sucker for a working class rebel," he said.
"He was charming. The fact that at his funeral hundreds of people turned up was testament to his character.
"He was a showman and stood up for people. He knew the people that watched him worked in mines, in factories and he did his best to cheer them up."
Filming is expected to start later this year and could reach cinema screens this year or early next year.
Entitled Friday, a director is being lined up who Mr Young will not name but says he has been "responsible for one of the great British movies".
There will be much conjecture over who plays Friday, with internet rumours linking the likes of Tom Hardy and Christian Bale.
The project is backed by the Film Agency for Wales and much of the shooting will take place in Wales.
Broad appeal
"We need to find more old fashioned football grounds so won't be able to use Cardiff's or Reading's grounds," said Mr Young.
"But we want to do as much as possible in Wales. Wrexham [football ground] might be one place."
Julian Stone of Tasty Films, who wrote the screenplay with Mr Hewitt, said the aim was to give the film a broad appeal.
"We always felt there was the potential for this to go beyond the limited parameters of a football audience," he said.
"One thing we discussed was that we all knew the stories of the stars who we followed, and every country has their own star.
"Some of the stories of the British icons have never really travelled outside the UK but the great thing is, because it's undiscovered, it has the potential to be for everyone."