First Great Western to cut 'tosh' announcements on board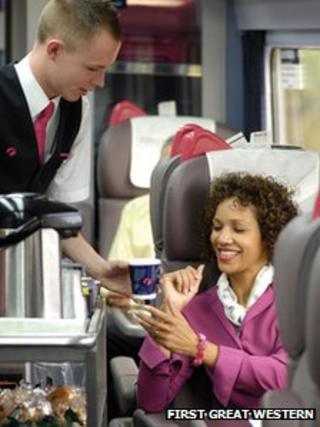 A train company will cut the amount of "tosh" announced on board after passenger research deemed it irrelevant.
First Great Western (FGW) said 40% of content was not useful, according to its survey of rail users.
No smoking announcements will go, as well as those informing people where first class is.
It comes after Transport Minister Norman Baker urged train operators to curb "excessive" announcements.
The changes, which will come into effect in May, also include only warning "Mind the gap" when necessary and not as standard at every station.
David Crome, FGW general manager, said: "Some of the things we do not need to say anymore - we have been through the announcement guide to rid it of all the tosh, the redundant, the irrelevant and the repetitive."
Research suggested passengers had psychologically trained themselves to tune out to all announcements.
"Change here for connecting services to ..." will be replaced with relevant information on departure times and platform numbers.
Mr Crome said: "Some of our colleagues have been saying the same thing for 20 years. It may take a little while for them to change habits."
But David Sidebottom, director at Passenger Focus, said the announcements were "vital".
He said: "On board announcements are important to many passengers to ensure, for instance, that they are aboard the correct train, have a valid ticket, or know when to prepare to alight.
"This repetitive information may be annoying to some passengers, but it is nevertheless vital for others."