Sir Terry Matthews suggests Newport becomes region of Cardiff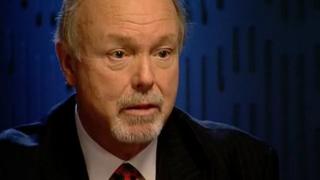 Newport should become a district of Cardiff, billionaire Sir Terry Matthews has told BBC Wales.
Newport-born Sir Terry claims south east Wales should promote itself to the world as "Cardiff, the brand."
He tells Tuesday's Week In Week Out Newport would do "better economically" as a region of the capital.
Newport council said it would not comment while the Welsh government is looking into how a south east Wales city region might operate.
Admitting his idea would be controversial, Sir Terry says: "If Newport was a region of Cardiff it would do better economically. Many people won't like these words but I believe this started a long time ago - size matters."
Sir Terry, who was born in Newport and raised in Newbridge, made his fortune in the telecoms industry and helped secure golf's 2010 Ryder Cup to the Celtic Manor, the hotel resort which he developed in his home city.
He added: "If I was king, I would go [from] Swansea to Newport and I'd circle it and include the valleys. I'd say that's Cardiff."
Speaking from his corporate headquarters in Ottawa, Canada, he tells the programme city regions are becoming an economic fact around the world.
Newport council said it would be inappropriate to comment at a time when the Welsh government is examining how a south east Wales city-region might operate.
Last year, Newport councillors called for a green belt in Cardiff to keep the two cities separate.
They fear plans to develop the capital could threaten Newport's identity.
Both councils say there is no appetite to merge, but the notion of a south east Wales city region, driven by Cardiff but including Newport, was recently proposed by an expert panel reporting to the assembly.
Week In Week Out looks at the proposal for a new £1.5bn metro transport system which could improve links between Cardiff, Newport and the valleys.
Its promoters say the system would help establish a city region.
'This can't be just about Cardiff'
Cardiff-born businessman Mark Barry has formed a consortium to push for the new metro system of trains, trams and buses.
He says: "This can't be just about Cardiff.
"If a new metro is built, Pontypridd, for example, will be the most connected place in the valleys.
"That will regenerate the town, creating jobs there."
Victoria Winckler of the Bevan Foundation think tank says a new Metro would be welcome, if it benefited the valleys.
She said: "The concern is that Cardiff will suck up what little public and private sector investment there is with very little benefit to the valleys."
Week In Week Out, Back on the Rails, BBC One Wales, 22:35 GMT, 19 March.