Commonwealth war graves: 8,000 Wales plots signposted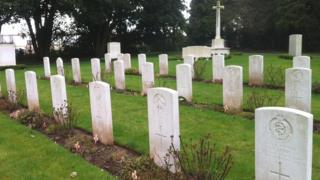 More than 8,000 war graves around Wales are to be given a higher profile in a bid to emphasise local history on people's doorsteps.
The Commonwealth War Graves Commission is placing signs at 1,145 cemeteries and churches to highlight memorials to soldiers killed in World Wars I and II.
Smartphone QR codes are also planned to give people historical information at some of the main sites.
The commission said many people are unaware there are war graves in Wales.
Cardiff and Pembrokeshire are among the first areas to be given the signs, which will be placed at the entrances to cemeteries and church graveyards to say there are war graves at the site.
More signs are planned for 1,145 locations over the next few years to highlight the 8,015 war graves from the two world wars that are scattered throughout Wales.
In addition, some sites, including Cathays Cemetery in Cardiff and St Margaret's Church in Bodelwyddan, will have more in-depth historical information signs.
QR codes will also be placed alongside them so that people can scan them with their smartphones to find out more details about the soldiers buried there.
Peter Francis, from the Commonwealth War Graves Commission (CWGC) - which maintains graves from the two world wars - said the ambitious UK-wide project was important in order to raise awareness.
"Most people know about the war cemeteries abroad - in France and Belgium, in the desert and in the far east," he said.
"We are keen to raise awareness of our war graves in Wales and to remind people that there are very powerful reminders of the human cost of the two world wars on your doorstep."
Many of the fallen soldiers buried in Wales died from their injuries after returning home from conflict, while others were killed while training or based in the country.
Kevin Brennan, MP for Cardiff West, said many local people would be unaware that so many soldiers - both Welsh and from abroad - died in Wales during and following the two world wars.
"The signs will be a great resource of history for local people and schools," he said.
Mr Brennan unveiled the war graves sign outside Western Cemetery in the Ely suburb of Cardiff last week.
There are 127 servicemen from World War II buried or commemorated at the cemetery - 32 of their graves are grouped together to form a memorial garden while others are buried in family plots.
Around 40 soldiers from the two world wars are also commemorated on special memorials because their graves in other areas nearby could no longer be maintained.
"The graves are very fascinating - there are some to soldiers from Poland and Canada," Mr Brennan added.
"And it's very moving to go and look at these memorials and remember the sacrifices made by these young men."
Meanwhile, signs have also been erected at the entrance to cemeteries in Pembrokeshire.
Steven John, who has researched war graves and memorials for fallen soldiers for the Pembroke County War Memorial website, said there were 318 war graves in Carmarthenshire, 163 in Ceredigion and 508 in Pembrokeshire.
"I think this project is really important," he said.
"You go to France and Belgium and these war graves are all over the place.
"But you could drive past a church yard in England and Wales and wouldn't know they were there."
During World War II, Cardiff and Swansea were the naval bases of Western Approaches Command, which was responsible for safe shipping.
There was also a Royal Air Force station and military hospitals in Cardiff.
Pembrokeshire was home to a number of training bases during both world wars, along with ports at Milford Haven and Pembroke to where soldiers who died at sea were often brought.