Education must tackle poor schools - Leighton Andrews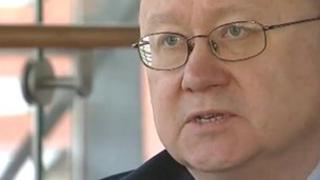 Education professionals in Wales have been told by minister Leighton Andrews to get a grip on poor performance.
Five school education services have been labelled failing by inspection body Estyn.
Mr Andrews says he does not want to have to call in private companies, and does not believe they are the answer.
He says outside help might have to be called in, but told Huw Edwards on The Wales Report on BBC One Wales that the nation could sort out problems itself.
The education departments at Merthyr Tydfil and Monmouthshire councils were warned last month about being put into special measures and stripped of their responsibilities for education.
Anglesey, Blaenau Gwent and Pembrokeshire have been placed in special measures.
Mr Andrews told The Wales Report that he believed private companies were not the answer for turning around under-performing schools.
"It's not a solution I would like to see and I think we have the capacity within the Welsh system," he said.
"We may need to bring capacity in from outside - people with expertise to support that - but I think we can turn it around here in Wales."
Mr Andrews' comments come a few weeks after he suggested that handing the running of Merthyr Tydfil's education services to a not-for-profit trust or private sector recovery team was an option he would consider for the troubled local authority.
But he emphasised on the Wales Report that the control of schools by private bodies was not an option he wanted.
Critical reports
"I don't want to be in the position of having to bring in private companies," he added.
"What I want is the profession in Wales to take a grip of the situation and to commit to turning it around."
Merthyr Tydfil's education services were placed in special measures along with Monmouthshire's after heavily critical reports from Estyn.
An independent recovery board is expected to be established in Monmouthshire to oversee improvements in education.
Mr Andrews told The Wales Report that Merthyr's education system would probably be merged with Rhondda Cynon Taf's.
The Wales Report is on BBC One Wales at 22:25 on Sunday, 17 March.