TV DIY pioneer Harry Greene dies, aged 89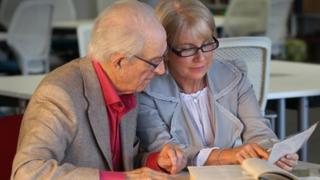 Harry Greene, one of British TV's first DIY presenters and the father of the former Blue Peter presenter Sarah Greene, has died at the age 89.
Rhymney Valley-born Mr Greene collapsed days after returning home from a holiday with his daughter and her husband, fellow presenter Mike Smith.
In his early life Mr Greene toured as a theatre actor, and went on to appear on TV and publish DIY books.
Mr Smith hailed his father-in-law as a pioneer of DIY programmes on TV.
Born Henry Howard Greenhouse, he changed his surname to Greene in 1950 by deed poll.
Paying tribute on his blog, Mr Smith said his father-in-law was largely self-employed from his teenage years and worked his way from Wales to London via art college, Cardiff University, stage management, design, building, acting, writing and teaching children with special needs.
"My own dad had died back in '76 - so Harry became particularly important to me," Mr Smith added.
"He was one of those driven people."
Mr Greene married Marjie Lawrence, an actress, in 1955 and they had three children. She died in 2010.
They worked together at Joan Littlewood's theatre workshop at the Theatre Royal Stratford, east London.
He toured the country for the workshop - whose members included Sir Sean Connery and Sheila Hancock - sourcing the company's succession of battered old vans and building sets as well as acting.
In the year Mr Greene and Ms Lawrence married they became two of ITV's first stars, in a soap opera called Round at the Redways, with Mr Greene playing the part of a handyman husband.
"From that, he actually became television's first DIY expert," added Mr Smith.
"It was his DIY career that I got to know.
"In the 80s he worked for Greg Dyke at TV-AM, devising, writing and producing a great series called Dream Home.
"Harry found a tumbledown small house, persuaded TV-AM to buy it and then they filmed the whole conversion and building process. At the end, the house was given away in a competition.
"Later, for the BBC, he did a similar operation in the bizarre surroundings of the car park at Pebble Mill studios, Birmingham. On The House was a project to build and complete a house from scratch - and Harry and his team rose to the challenge.
"If it wasn't for Harry Greene, none of those DIY TV shows of the 90s would have happened. He made DIY fashionable and accessible.
"Some of his best ideas were 'borrowed' by various TV executives and put on-air - with no recompense for Harry. That's telly."
Mr Smith said his father-in-law was the DIY presenter on shopping channel QVC for 10 years.