Forces for Good fraud: Chris O'Neill jailed for three years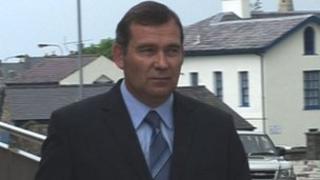 A conman who gambled money which was meant to have helped injured soldiers has been jailed for three years.
Former soldier Chris O'Neill, from Colwyn Bay, had been given a £125,000 Welsh government grant for a hotel for ex-service personnel in Llandudno.
O'Neill, who admitted fraud, set up a company in north Wales called Forces For Good, but spent much of the cash on gambling, Caernarfon Crown Court heard.
The judge said O'Neill had deceived soldiers who knew the horrors of war.
Conwy council was supposed to administer the £125,000 grant on behalf of the Welsh government, but O'Neill went on a spending spree, gambling heavily, running up hotel bills and buying a speedboat before being caught by North Wales Police.
Sentencing, Judge Niclas Parry said it was a matter of concern that the Welsh government approved a grant "without even basic checks".
After the hearing, Conwy council said it had repaid all the grant.
'High-value scam'
Last month Falklands veteran Simon Weston called for tighter control on how grants to veterans' organisations were monitored.
The judge told O'Neill: "This was nothing other than a sophisticated, high-value scam and a wicked deception on the public purse designed to enrich yourself.
"Any right minded person would be sickened by the deception based on the premise that vulnerable people would benefit.
"Your wicked lies included deceiving former soldiers - men who had truly served their country and had truly known the horrors of war.
"In reality, your service was short and dishonest, and the best assessment of you was from your senior officer when you left the army - you are a congenital liar."
He added: "It is a matter of concern that the Welsh government approved a grant for this capital project without even basic checks.
'Despicable fraud'
"This case emphasises the importance of checks before scarce public funds are awarded."
Conwy council chief executive Iwan Davies said the authority was "extremely disappointed" it was among the victims of the "despicable fraud".
He said the council had referred the matter to North Wales Police, and dealt with the matter seriously.
"The circumstances have been fully investigated through a rigorous internal audit and our external auditors have carried out a thorough review of our arrangements for managing grants.
"The external auditor has already commented on the issue in reports to the council. The findings of Conwy's internal investigation will be reported to audit committee on 14 March 2013, the meeting will be open to the public.
'Cruelly took advantage'
"We can confirm Welsh government required the council to repay the grant. The repayment was made in financial year 2011/2012 from capital monies - no individual revenue budget was affected.
Mr Davies said they were satisfied the necessary steps had been taken to reinforce the council's internal processes and procedures.
Gareth Preston, the crown advocate for the Crown Prosecution Service in Wales, said O'Neill's offences represented "a flagrant breach of the trust" placed in him by a significant number of people.
"O'Neill carried out a fraud involving the misuse of scarce public funds that were meant to help a particularly vulnerable section of our society.
"He also cruelly took advantage of another vulnerable victim at a very difficult time in her life," added Mr Preston.
"There is little doubt that O'Neill's crimes have had a significant and negative impact on the prospects of all of those who have lost out as a result."