'Harlem Shake teacher' suspended from Caldicot Comprehensive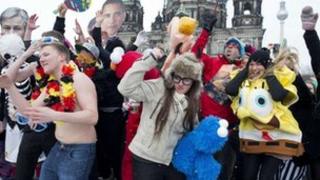 A teacher has been suspended over allegations that a video based on the internet sensation Harlem Shake was filmed at a school and posted online.
An investigation has been launched after the video, believed to have been filmed at Caldicot Comprehensive, was uploaded to You Tube.
Monmouthshire council said the school was looking into whether the teacher behaved in an "unacceptable way".
The Harlem Shake sees a group of people dancing erratically to music.
Up to 4,000 people a day have uploaded their own 30-second video variations to the Harlem Shake dance track by US DJ Baauer.
It is understood the Caldicot Comprehensive clip was filmed while pupils were on a break a few weeks ago.
It has now been taken down from the internet.
Weird costumes
In a statement Monmouthshire council (MCC) said: "One of our schools is investigating reports that a member of staff may have behaved in an unacceptable way .
"While MCC look into this, we're not able to discuss the detail of this case.
"The teacher has been suspended while a full investigation takes place.
"Depending on the outcome, the MCC disciplinary policy for employers would be applied."
Each Harlem Shake video lasts about 30 seconds.
For the first 15 seconds, one person - often masked or in a helmet - dances in front of apparently oblivious or uninterested people.
As the bass drops, the video cuts and suddenly the screen is full of people dancing energetically, often dressed in weird costumes and with props.