Gambling question omission in Welsh health survey 'disappointing'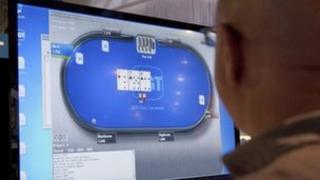 The Welsh government has refused to add questions about internet gambling in a national health survey despite a request from the gambling regulator.
Campaigners called it disappointing and said internet gambling may be leading to a new generation of problem gamblers, of which there could be tens of thousands in Wales.
The health minister said the survey must focus on core topics.
The online gambling industry is worth £2bn in the UK, employing 7,000 people.
BBC Radio Wales' Eye on Wales programme said figures gathered by UK social research charity NatCen suggested there could be at least 20,000 problem gamblers in Wales.
Addiction
Campaigners said the figure pointed to a huge public health problem that impacted on thousands of families.
They told the programme that the decision to refuse the Gambling Commission's request to include questions in the public health survey in Wales, when England and Scotland had agreed, was disappointing.
Mick Antoniw, assembly member for Pontypridd, is launching a campaign to raise awareness of the dangers of online gambling this month.
"There isn't really an enormous amount of information or a great deal of appreciation of the issue of gambling addiction - that's why gambling online has been able to expand as massively as it has," he said.
"I would have thought it would have naturally been included, and I've done a check of the last survey. There are a detailed number of questions about alcohol, there are a series of detailed questions about mental health so it seems to be effectively missing part of the equation."
One former online gambling addict said she became hooked on online slot machines, playing through the night until she had lost everything, then signing up for payday loans to continue.
She said: "I would think 'I'll just have a quick go and have a little flutter' win £10 and of course I'd lose that instantly and before I knew it, it would be three hours later and I'd be thinking 'how would I get to work the next day? How would I get the petrol money?', so I'd be looking for loans online.
"It's like a drug addict looking for the next fix or an alcoholic needing the next drink."
Socially responsible
She reached her lowest point when she found herself stealing from her daughter's room to gamble.
"I needed to go and do some basic shopping and I ended up in our daughter's room. I found it hidden in one of her tins on the side and I took it without having any thought about what I was doing," she said.
Clive Hawkswood, chief executive of trade association the Remote Gambling Association, said the online gambling industry was behaving responsibly.
"Even if the link between advertising and children or advertising and problem gambling is not fully established, we are aware of the sensitivity so we are trying to be socially responsible, trying to meet the regulator's demand is trying to meet the concerns of people, but again, marketing is important for us from online industry," he said.
Health Minister Lesley Griffiths said she was "aware of the impact problem gambling can have" but the health survey had to focus "on core topics which are useful to a broad range of users".
UK Gambling Minister Hugh Robertson issued a statement in which he said "all gambling related advertising should be undertaken in a socially responsible manner and comply with the advertising codes of practice".
Eye on Wales is broadcast on BBC Radio Wales at 13:30 GMT on Sunday, 3 March.