Bariatric operations may rise from 80 to 300 a year in Wales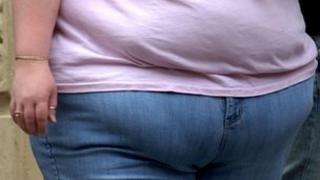 More patients in Wales could be given obesity surgery under plans to increase the number of stomach operations offered each year.
Bariatric surgery, such as the fitting of gastric bands, would rise to 300 from the current 80 under proposals being considered by health boards.
The Welsh Health Specialised Services Committee (WHSSC) has agreed to review the criteria for surgery.
An estimated 180,000 people in Wales have severe or morbid obesity.
Currently, criteria in Wales for surgery, which can help prevent conditions like type 2 diabetes, is stricter than in England.
In England, people must have a Body Mass Index (BMI) of 35 with related health problems, such as diabetes or sleep apnoea, or 40 without - which is what the National Institute for Health and Clinical Excellence (Nice) recommends.
In Wales, the figure is a BMI of 50 with related health problems.
This means patients can only be operated on once they are in poor health.
But the recommendations would look to change that criteria to broaden the range of patients who can be considered for surgery.
Stephen Harrhy, interim director of WHSSC, said bariatric surgery would still only be used for a minority of people.
"Bariatric surgery is a clinically and cost-effective specialised service for the treatment of morbid obesity," he said.
"There are strong reasons fro revising the current access criteria and considering an increase in commissioning activity.
"However, the majority of individuals seeking help to address problems of obesity will require non-surgical management, with bariatric surgery reserved for a small number of carefully selected cases."
An estimated that 180,000 people in Wales - 6% of the population - have severe or morbid obesity (a BMI of 35 or more).
It is thought 60,000 people have a BMI of 40 or more.
Dr Nadim Haboubi, an obesity doctor who who is also chair of the National Obesity Forum for Wales, has previously called for more surgery to be carried out in Wales.
He has warned that by the time some people meet the criteria for surgery, they have developed severe health problems.
Monitoring progress
He said he welcomed the recommendations to change the criteria and said it would bring Wales more in line with England.
But he said: "You also have to ensure that resources go into community care, prevention and specialist clinics.
"That's equally important," added Dr Haboubi, who is a consultant physician at Nevill Hall Hospital in Abergavenny and also runs a specialist obesity clinic in Blaenau Gwent.
Health Minister Lesley Griffiths has updated assembly members on the recommendations, which follow a review by WHSSC, which is independent of the Welsh government and advises health boards on the best use of resources for specialised services.
She said the health boards had been asked to consider the recommendations but it will be up to them whether they follow them.
She added that officials will be monitoring progress in line with the Welsh government's All Wales Obesity Pathway framework.