Teenage pregnancies in Wales fall by a quarter in 10 years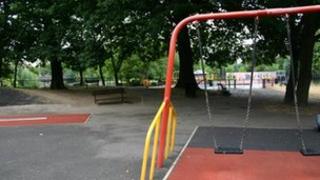 Teenage pregnancy rates in Wales have dropped by around 25% in the last 10 years, official figures show.
The Office for National Statistics figures say that in 2011, 34 girls out of every 1,000 fell pregnant under the age of 18, compared to around 45 per 1,000 in 2001.
Blaenau Gwent saw the biggest fall in Wales, dropping by 32%.
The Royal College of Midwives said improved sex education and availability of contraception had helped.
Teenage pregnancy rates across England fell by more than 27% across the same period.
Abortion rates have also fallen in the last 10 years.
The Welsh government reported in March last year that pregnancies in girls under 18 had fallen to their lowest rate in 18 years.
Julia Chandler, national officer for the Royal College of Midwives in Wales, said there was a combination of factors for the fall.
"There's been a push to reduce teenage pregnancies," she said.
"It has been high on the Welsh government's agenda, along with a greater awareness of teenage pregnancy among teenagers and everyone else.
"And there's more availability of morning-after contraception. They can now go to a pharmacist to get morning-after contraception and that's been within that 10-year period.
"There's no need to go to family planning or a doctor."
She said sexual education was also discussed much more openly now both in schools and at home.
Despite the fall, the conception rate for under 18s remains higher in Wales than England.
In 2011, 34.2 girls out of every 1,000 fell pregnant in Wales compared to 30.7 in England.
The rate in Wales is higher than all but three of England's regions - the North East, North West and West Midlands.
There was also a warning against complacency from Dr Charlotte Jones, deputy chair of the British Medical Association Cymru's GPs committee in Wales.
"I think the figures are very good news because of all the hard work that has gone on looking at sexual health and educating youngsters about contraception," she said.
"I understand the abortion rate has gone down as well which would suggest the message is getting through and teenagers are more aware of effective contraception.
"We would hope that's a combination of the youngsters themselves understanding more and asking questions and understanding their options better.
"There's always room for improvement but we need to build on this and ensure those messages are continuing to be passed on whether that's in education or the media."
A Welsh government spokesperson said: "The Welsh government is committed to improving sexual health and wellbeing in Wales and we welcome the overall downward trend in teenage pregnancy.
"This overall decrease reflects an integrated approach in Wales via the Sexual Health and Wellbeing Action Plan for Wales 2010-2015.
"This promotes sexual health and healthy choices for women and girls, including relationships and sex education, safer sex and contraceptive services as well as a safe abortion service where this is needed."