Lincoln: Conwy village Ysbyty Ifan's link to president
By Robert Thomas
BBC News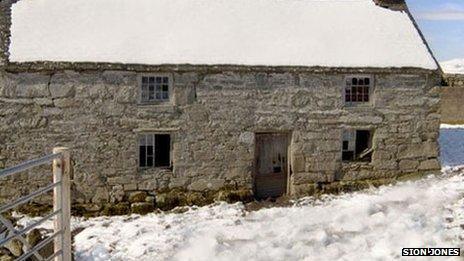 People in the tiny north Wales village of Ysbyty Ifan will be watching this year's Oscars ceremony with more interest than usual, and hoping it may even lead to an influx of tourists.
Steven Spielberg's film about President Abraham Lincoln is a favourite to pick up some of the top honours.
Lincoln is revered for ending slavery in the US at the time of the civil war.
But while his roots in this corner of Snowdonia National Park are less well known they are a source of local pride.
"Abraham Lincoln's great, great grandfather, called John Morris, lived up in Bryngwyn," explains Eirian Roberts, whose farm in Ysbyty Ifan includes the now derelict farmhouse of Bryngwyn.
She hopes the success of the Spielberg film may encourage a few more visitors to come to Ysbyty Ifan.
They would see Lincoln's ancestors' journey began in a building which translates from the Welsh as the White Hill, and ultimately led him to the White House.
John Morris' daughter, Ellen, emigrated to the United States with a group of Quakers, leaving Wales, it is believed, sometime in the first half of the 17th Century.
"I think she left because of the poor quality of life they had here and the promise of a better life in Pennsylvania," said Ms Roberts, who has done some research into Lincoln's connection to the Conwy Valley.
"While she was out there, she met Cadwaladr Evans and got married to him."
He came from relatively nearby, about 20 miles away in Bala, although the couple had not known each other before they both went to the US.
"They had a daughter called Sarah and she went on to marry John Hanks, and a daughter was born to them called Nancy, who became the mother of Abraham Lincoln."
Bryngwyn is a solid, stone-built two-up-two down cottage which has stood empty since the 1940s. It is unclear if the building is largely the same as it was when Ellen Morris set out on her journey to what was then still a British colony.
But, said Ms Roberts, the Lincoln connection is already known to some of those in Americans who admire the former president for what he achieved in their country's history.
Last summer she was near the cottage when a car pulled up bearing American tourists who had read about Bryngwyn and wanted to see it.
"People tell me we don't do enough about it. People from outside always say they've got more interest than the local people," she said.
"It would be nice to get some money and do it up, wouldn't it?"