Forces for Good fraud: Veterans' grants controls call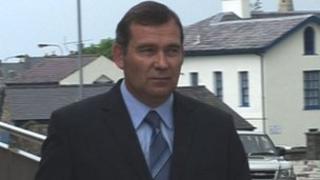 Falklands veteran Simon Weston is urging tighter control on how grants to veterans' organisations are monitored after a conman admitted fraud.
It comes after Chris O'Neill pleaded guilty after gambling money meant for injured soldiers with the Forces for Good organisation.
He had been given a £125,000 grant by the Welsh government to run a hotel for ex-service personnel in Llandudno.
Conwy council, which administered the grant, has strengthened procedures.
Speaking on BBC Wales' Week In Week Out programme, Mr Weston described O'Neill as "deplorable" after it was revealed he lied about his own military record and defrauded Forces For Good, a social enterprise he set up in north Wales.
O'Neill was given a £125,000 grant by the Welsh government to run the hotel for ex-service personnel.
Conwy council was supposed to administer the grant on behalf of the Welsh government but O'Neill went on a spending spree, gambling heavily, running up hotel bills and buying a speedboat before being caught by North Wales Police.
O'Neill has admitted two counts of fraud and is due to be sentenced on 5 March.
Mr Weston said: "There needs to be better checks, especially around when there's large pots of money available and people are claiming to help people and certainly around mental health.
"Mental health is such a fragile and delicate world to go into - only the professionals should ever be allowed to get into it, only people who have been trained. This guy was very good: he could talk the talk, never could walk the walk."
The programme has discovered that O'Neill convinced politicians, the probation service and North Wales Police that he was trustworthy.
He claimed to have been a member of the Royal Military Police for five years, but the Ministry of Defence said he spent two periods in the Army, in 1977-78 and in 1980-81.
O'Neill gave evidence to various parliamentary and Welsh government committees about post-traumatic stress disorder and the impact on soldiers leaving the forces.
He was photographed at a veterans' event at the Senedd in Cardiff Bay alongside Mr Weston, who said O'Neill "only had to sit there and listen to all the rest of us speak to be able to pick up on what we were saying and then embellish it."
Addictive personality
Plaid Cymru MP Elfyn Llwyd, a prominent campaigner for veterans, admits being taken in by O'Neill.
He told the programme: "He was perfectly plausible... he could speak to social services, contacts with British Legion, with SAAFA [the armed forces charity), with the police service, probation service. He could talk the birds down off the trees to be honest.
"He'd been in several meetings with some very high powered ex-service people; people from the probation service, the police and the whole panoply of people that we deal with in half yearly committees down in London - and I don't think anybody suspected anything."
O'Neill admitted to having an addictive personality, and had long suffered problems with drink and gambling. He also had a conviction for dishonesty having stolen jewellery from his employers in 1985.
Mr Llwyd is calling for an inquiry into how O'Neill's background wasn't checked in more detail before being handed such large sums of public money.
He said: "There has been a real failure of regulatory control and it may be partly Welsh government, it may be partly Conwy council, I don't know.
"But somewhere it has to be found out and dealt with because checks and balances are vital when public funds are being used."
In a statement the Welsh government said that Conwy council was responsible for administering the grant to Forces for Good and that the council had now repaid the £125,000 in full.
It also said that its officials worked with the council to review and strengthen its governance procedures.
Conwy council has carried out an internal investigation in to what went wrong with Forces for Good.
The programme asked the authority for a copy of its findings, but it refused, saying that its internal report would be made public in a few months.
Week In Week Out is on BBC One Wales at 22:35 GMT on 20 February.