Horsemeat: AM calls for Welsh councils to test all meat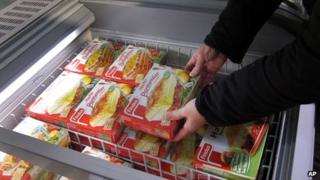 A call has been made for local authorities in Wales to test all meat entering the public sector food chain.
It comes amid the growing scandal over horsemeat across Europe which has seen raids on meat companies, including one at Llandre near Aberystwyth.
Conservative rural affairs spokeswoman Antoinette Sandbach AM said she wanted more Welsh government leadership and local councils told to act.
The Welsh government said consumers can have confidence in Welsh beef products.
MPs were told on Thursday that "the full course of the law" would be brought down if there is any evidence of criminal activity.
"This government is committed to proper investigations based on evidence," Environment, Food and Rural Affairs Minister David Heath told the Commons.
Mr Heath explained that the Food Standard Agency had gathered intelligence before entering meat firm premises in West Yorkshire and Llandre, seized horsemeat and all paper work and are currently investigating customer lists.
However, the paper work is proving "difficult to interpret" as some of the meat is "unlabelled" and therefore "the destination is unknown".
Meanwhile, the largest Welsh council, Cardiff, has already said it is carrying out inspections over the coming weeks to examine its own suppliers and establishments.
North Wales AM Mrs Sandbach said councils across the board in Wales should follow Cardiff's lead.
"Clearly it is very concerning for consumers and I think we're seeing that it is broadening out from Ireland into the rest of Europe," she told BBC Radio Wales.
"I would have like to have seen a call from Welsh government to local authorities to particularly look at the food in the public sector, to see whether they've got that traceability.
"And where that traceability isn't there, to then take action and test. I would have liked to have seen a quicker response, as I'm sure many other people would have done," she told Good Morning Wales.
"It would have been possible for the Welsh government to turn around to those local authorities and say 'test - and do it now'.
"There is a great concern that this will damage the reputation of Welsh food and I think that would be highly wrong if that were to happen, because of the very high quality to which it is produced."
The Welsh government's Deputy Minister for Agriculture, Alan Davies, said he remained confident in home-grown meat supplies.
"Clearly, integrity is key to the supply chain. Consumers need trust in the food that they are buying and the food that they are eating," he said.
"What we're doing is working together to ensure that consumers can have that trust, particularly in Welsh beef. If you look at Welsh beef, it has a particular European designation that means all of the processing plants, the slaughterhouses, the retailers understand that it has to reach extremely high standards.
"That means everybody can have confidence and can continue to have confidence in the integrity of Welsh beef products."
The ongoing scandal surrounding horsemeat in products claiming to be beef was brought closer to home after Food Standard Agency officers raided the Farmbox Meat plant at Llandre.
The company said it was cutting up horse carcasses brought in from Ireland, before exporting the meat to Belgium.
Europe-wide alert
Its owner, Dafydd Raw-Rees, has insisted that it is acting legally, and no meat has been processed into other products or passed on as beef.
"I get paid for doing the cutting up. There's no further processing. I don't do kebabs I don't do mincemeat, don't do beefburger," he told the BBC.
"This is not a processing plant, this is purely production, meat cutting."
The scandal surrounding horsemeat entering the food chain as beef has seen major high street supermarkets and food producers forced to recall stock.
One of the latest cases involved the brand Findus, which last week revealed that some of its frozen beef lasagne dishes were actually 100% horsemeat.
A total of 16 EU countries are now affected by the issue.
A spokesperson for the Department of Environment, Food and Rural Affairs (Defra) said: "We have been working urgently with food businesses, police and authorities across Europe to get to the bottom of this unacceptable situation.
"Once we have established the full facts we will take whatever action is necessary so that this unacceptable situation cannot happen again."