Few travel problems after Met Office snow warning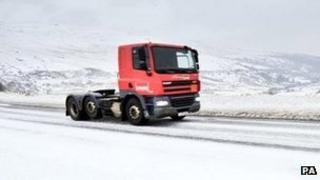 There has been little disruption to travel despite a Met Office warning that snow could cause trouble in parts of Wales.
The Met Office's yellow "be aware" warning for snow ran until 07:00 GMT on Monday across eastern counties.
There have been a few wintery flurries in Powys and north-east Wales, but the snow has not been as heavy as expected.
Heavy rain caused problems on some south Wales roads on Sunday, but there is no repeat of January's snow chaos.
Flash flooding has also been a problem in recent weeks because of heavy rain, sometimes combined with melting snow.
On Saturday, a landslip closed the A483 westbound near Fforestfach Retail Park in Swansea for a short time.
There were also reports of flash flooding on roads around Cowbridge in the Vale of Glamorgan on Sunday, and hazardous driving conditions on the M4 from Margam to the Pont Abraham roundabout due to rain.
The Met Office had warned of the risk of snow in eastern Wales on Sunday but it extended it through to Monday morning.
"Overnight into Monday morning, there is a risk of an area of snow moving westwards across parts of the south Midlands, east and south east Wales and southern England, with a few centimetres in places, particularly over higher ground," said the Met Office.
"The public should be aware of the risk of disruption, particularly to travel."
The enhanced content on this page requires Javascript and Flash Player 9
Map Key
Land
Cloud
Lakes, Rivers & Sea
Fog
Light
Heavy
Frost
Light
Heavy
Pressure Fronts
Cold
Warm
Occluded
Rain
Light
Heavy
Extreme
Snow
Light
Heavy
Temperature tab only
Temperature (°C)
More details from BBC Weather