Minor earthquake shakes north Wales homes, says British Geological Survey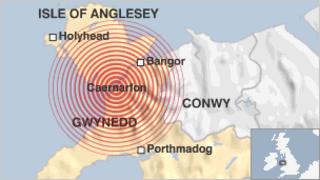 Dozens of people have reported feeling a minor earthquake in north west Wales.
The British Geological Survey (BGS) confirmed a 2.3 magnitude earthquake around Caernarfon at 22.41 GMT on Thursday.
It was also felt in Anglesey, Porthmadog and Bangor, and reports said it caused houses to shake and was "like a lorry crashing into the house".
The BGS said there were about 150 to 200 earthquakes in the UK every year.
Davie Galloway, of the BGS, said: "We've had about 40 or 50 people contact us last night with comments like 'the windows shook, the rumbling seemed to come beneath our feet, it was like a lorry crashing into the house'.
"It was the sorts of descriptions and reports that you get for an earthquake that size.
"We record about 150 to 200 earthquakes somewhere in the UK every year.
"North west Scotland and north Wales are probably the most seismically active out of those areas."
Some people took to social media on Thursday night in north west Wales to talk about the earthquake.
One message on Twitter said: "Freaky earthquake in Anglesey just shook our house from side to side and then came back again minutes later"Wow!"
Another wrote: "Just felt an earthquake!!! North Wales."
Mr Galloway said Britain regularly had minor earthquakes because "we live on a dynamic planet".
"All the planet is made up of all these different plates that are all jiggling about all the time, banging into each other," he said.
"Although we are quite a bit away from the plate edges where the big earthquakes happen like Japan and Indonesia, the movements of the plates still exert stresses on the rocks of the UK and every now and then we get a small earthquake."
He said north Wales had experienced big earthquakes in the recent past.
"The one in 1984 in north Wales was one of the biggest we've had at 5.4 magnitude, which is roughly about 30,000 times the size of the one that occurred last night," he said.
Earlier this week there was an earthquake of 2.4 magnitude in Loughborough in Leicestershire, and also a couple in the same location in January.