Wind farms: Energy investment warning for Wales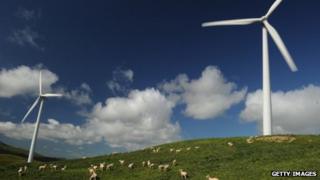 The head of the UK's largest renewable energy producer is warning that Wales will lose out on wind farm investment unless the planning process speeds up.
Ian Marchant, chief executive of SSE, says proposed projects in Wales are taking longer and costing more than in other parts of the UK.
SSE, which owns Welsh electricity firm Swalec, has 36 wind farms across Britain, and is planning another 35.
But a scheme near Aberystwyth is being reconsidered because of slow progress.
His comments came as a Swalec training centre was opened near Pontypridd.
Speaking at the official launch of the Swalec Smart Energy Centre at Treforest, Mr Marchant revealed that a project in the Cambrian Mountains is now being reconsidered.
The 62-turbine wind farm would be sited at Nant y Moch near Aberystwyth.
Project delays
There is no planning application for the scheme as yet, but the head of electricity company said a decision was now going to be taken on whether SSE will proceed to that stage.
"The problem we have had is that project is taking longer and costing more to develop than comparable projects in Scotland," he said.
"The challenge we are facing as developers is do we carry on putting money into that project?
"And that's one of the things I want to do when I'm down here is take a temperature reading of what the genuine attitude towards renewable development in Wales is."
According to research carried out by Regeneris Consulting and Cardiff Business School, onshore wind farms could boost the Welsh economy by £2.3bn by 2050, creating an average of 2,000 jobs a year.
Welsh government planning guidance also sets a goal to generate 2,000 megawatts of electricity from onshore wind turbines by 2025, with most of it available by 2020.
'Reality gap'
But speaking to the Wales at Work programme on BBC Radio Wales, Mr Marchant added: "I hear lots of good rhetoric but the reality of development on the ground is not as good as that rhetoric and it's the reality which a developer has to face.
"In Scotland six or seven years ago, the position was similar to what it was in Wales. There was quite a gap between rhetoric and reality.
"The Scottish government, both political and administrative, has sought to close the gap.
"Now you can get decisions, which are robust and properly made, in half the time ... two to three years from saying 'this is a good site' to getting a planning decision.
"The problem for Wales - and this is not just SSE speaking - is that development capital is like water.
"It finds the easiest path, and it is easier and cheaper and quicker to develop wind in Scotland than Wales and money will flow in that direction unless Wales gets its act together pretty quickly."