Stafford Hospital inquiry: Wales 'to learn lessons' says health minister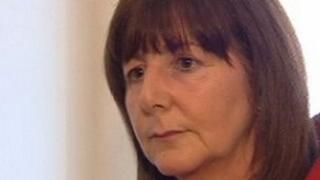 Welsh Health Minister Lesley Griffiths is to study a report into failings at Stafford Hospital in Staffordshire to see what lessons it may have.
Years of abuse and neglect at the hospital led to the unnecessary deaths of hundreds of patients.
The Francis report found systemic failures in Mid Staffordshire NHS Foundation Trust.
Ms Griffiths said Wales has "robust systems in place to ensure quality and safety are at the heart of NHS care".
She added: "A recent survey showed 92% of people here are satisfied with that care, however, we are not complacent.
"We are striving for excellence and will examine the Francis report in detail to see what can be learnt to ensure the systemic failures of the Mid Staffordshire NHS Foundation Trust are never part of the culture of the NHS here in Wales."
The report by inquiry chairman, Robert Francis QC, said the failings went right to the top of the health service.
He made 290 recommendations, saying "fundamental change" was needed to prevent the public losing confidence.
The Mid Staffordshire NHS Foundation Trust apologised unreservedly for its failures and says the Francis report is "rightly damning" of the hospital's performance at the time.
Prime Minister David Cameron apologised to the families of patients at Stafford Hospital where hundreds died.
He said he was truly sorry for what happened which was "not just wrong, it was truly dreadful".
Earlier, the Older People's Commissioner for Wales, Sarah Rochira, said the report into what happened at Stafford would resonate with individual patients and their carers in Wales.
"We have a different system here in Wales and we haven't seen a catalogue of failures on the scale that we've had in England," Ms Rochira told BBC Radio Wales.
"But I and others across services have spoken about individual failures in care which in their own right have been just as devastating for those individual patients and their families.
"So there will be lessons for everybody to learn and I think we cant be complacent and say 'This is England, its not Wales'."