Extended warranties: Shoppers misled, BBC Wales' X-Ray finds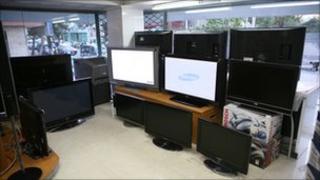 Sales staff in major electrical stores in Wales are misleading customers when they sell extended warranties, a BBC Wales investigation has found.
The X-Ray programme found Argos and Currys PC World - the biggest sellers of warranties on goods like TVs and washing machines - gave false statements to shoppers.
The stores said they will investigate.
The Office of Fair Trading (OFT) has been concerned about the sale of warranties in recent years.
X-Ray went undercover in Argos and Currys PC World to see if they are following customer protection laws.
Researchers, who visited stores across north Wales, found:
Some staff at Currys told them they had to buy the warranty at the same time the goods were bought - which is not true.
Some staff at both Currys and Argos told them they could not buy warranties elsewhere - even though they are obliged to tell customers in writing that they can.
In one Currys store staff gave misleading information on how much other companies charged for warranties.
In one Argos store the researchers were told a warranty would cover scratches - which is not true.
Consumer law expert Prof Margaret Griffiths, who viewed the programme's findings, said that giving false information on competitors' prices would be "contrary to the law".
She added: "If they are saying it would cover you for a scratch when it doesn't then they are misleading you."
"Retailers are relying on the fact that customers are going to get swept up in the excitement of buying their television or their video or whatever and will automatically say, 'I don't want my £600 TV getting damaged. Of course I shall buy an extended warranty'."
Lack of competition
Both Currys and Argos promised to investigate X-Ray's findings, and Currys said they would give training to staff where necessary.
Major electrical retailers have come under fire from consumer groups and regulators for many years over the way they sell warranties.
The OFT has been concerned about the way stores sell extended warranties for several years.
It is concerned that - because warranties are mostly sold in store along with electrical goods - there is a lack of competition in the marketplace.
New rules were introduced in 2005 but in 2012 the OFT threatened to refer the warranties market to the Competition Commission.
Instead Argos, Currys and the now defunct Comet group agreed to set up a price comparison website where consumers can easily compare warranties. The OFT said it hoped that it would be launched in February 2013.
An Argos spokesman told X-Ray: "We take your investigation and our responsibility to fully inform customers very seriously and were concerned and disappointed to learn the details of your experience. We have launched an internal review to investigate the concerns you have raised."
A spokesman for Currys PC World said: "We are investigating the incidents highlighted in your report. All staff complete customer service training, and training on the legal obligations associated with warranty services is compulsory for new starters; this training, specifically covering the topics identified in your report, is then systematically refreshed on a regular basis.
"Customer service is at the heart of our business, so we are already investigating the stores in question and will conduct further training and support where necessary."
X-Ray returns to BBC One Wales at 19:30 GMT on Monday, 4 February.