Aamir Siddiqi murder: Jury retires to consider verdict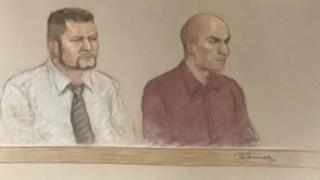 A jury considering its verdicts in the trial of two men accused of a bungled contract killing in Cardiff has been sent home for the night.
Jason Richards, 38, and Ben Hope, 39, both from Cardiff, deny murdering Aamir Siddiqi and trying to kill his parents.
Promising A-level student Aamir, 17, was stabbed to death on his doorstep in Ninian Road, Roath.
The jury will return to Swansea Crown Court on Friday to continue its deliberations.
The prosecution accused the defendants of "staggering incompetence" in performing a contract killing on the wrong person.
The court had heard the intended target was a father of four who lived near the Siddiqi family.
The jury was shown a map of the family home in Ninian Road as well as a house in Shirley Road behind it, where their intended target lived.
Patrick Harrington QC, prosecuting, told the jury the accused men had been paid by a businessman, angry because a property deal had collapsed, to kill his chosen victim in Shirley Road.
But on Sunday 11 April they went instead to a similar looking red brick, end-of-row house in nearby Ninian Road, he said.
It was, said Mr Harrington, a colossal mistake - a fatal mistake - for Aamir, a student and hoping to study law at Cardiff University.
He answered the door to face balaclava-clad killers fuelled by heroin, the prosecution said.
Aamir's 68-year-old father, Iqbal, and 55-year-old mother, Parveen, desperately tried to stop the attack by throwing themselves on to the alleged killers but were themselves stabbed, the court was told.
Stolen car
Mr Harrington said the defendants had used a stolen Volvo car on the day of the murder, later found abandoned.
Examination found traces of the teenager's blood in its footwell together with Mr Hope's fingerprints and DNA matching Mr Richards, he said.
The court heard that investigators used Cardiff's CCTV network to trace the movements of both men before and after the killing.
The case against them also includes a large amount of evidence gathered from mobile phones allegedly used by both men, the court heard.
Mr Harrington said that after the brutal killing the accused men were paid cash, before the alleged mistake in murdering the wrong person was revealed.
The prosecution said Mr Hope bought a new pair of trainers and a laptop computer with the money he was paid for murder.
Both men were arrested within days and blamed each other for the killing.
Mr Richards, who has a string of previous convictions and began taking drugs at the age of 16, became a heroin addict after serving an 18-month prison sentence in 2004 for causing actual bodily harm (ABH) to his former wife.
He accused Mr Hope of being "covered in blood" in the hours after Aamir's death.
Mr Richards said that the person he would most regularly buy drugs from was his 39-year-old co-defendant. He said he would often leave items of clothing at Mr Hope's address in Richmond Road.
Another key area of the prosecution's case has been forensic evidence linking Mr Richards to a stolen silver Volvo XC90 - a car seen speeding off from the Siddiqis' home shortly after the stabbing.
However, Mr Richards insisted he had not driven the car that day, but driven it as a favour for a friend around a week before the killing.
The court was also told, at the time relevant to the trial, Mr Richards was waiting for £5,000 in compensation for a bike crash.
'Hothead'
He said he had already received £500 of this amount in advance as well as £3,800 for his bike. In evidence, Mr Hope told the court "Jason did the murder" and he was "hothead".
On his arrest, Mr Hope said: "Jason was always calling for me, pressing the buzzer, I am not going to protect anyone. Jason did the murder."
Mr Hope told the court that on the day that Aamir was killed he had gone round to Mr Richards' home in North Road to look at his television because Freeview was not working.
Mr Hope said he took his second dose of drugs that day at the house and they "sent me into a stupor," he told the court. He said he was not aware what was going on until Mr Richards woke him up.
A CCTV clip was replayed to the jury of the two defendants walking along North Road around an hour after Aamir's murder. Mr Hope said he was carrying an envelope containing £1,500 which he said he had made from selling drugs.
The trial continues.