Wales Coastal Path brings £16m economic boost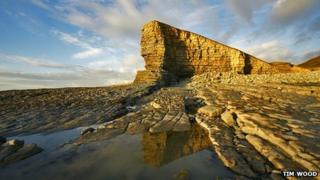 The Wales Coastal Path attracted nearly three million visitors and was worth an estimated £16m to the Welsh economy over twelve months, a report claims.
The Cardiff University research has been examining the economic impact of the network, which officially opened last May.
The path stretches 870 miles (1,400km) from the River Dee in Flintshire in the north to Chepstow in south.
The Welsh government said the benefits were felt across a range of sectors.
The study, carried out by the Welsh Economy Research Unit at Cardiff University's business school, estimates that between September 2011 and August 2012, visitors spent £32m on trips to coastal path areas.
The report states that this translates to a direct economic benefit, or gross value added (GVA), of £16m.
Much of that cash was spent on accommodation - at an estimated £5.2m GVA.
Restaurants, cafes and bars benefited to the tune of £2.4 GVA.
Environment Minister John Griffiths said: "This report shows that even before the path was formally open it was attracting many thousands of visitors and providing a real economic boost to coastal towns in Wales.
"And as the benefits are shared between of range of sectors such as retail, manufacturing, hospitality and transport we know that it is not just traditional tourism businesses that are benefitting from this excellent resource.
"I am confident that the path will continue to attract a high number of visitors to our coast and will provide this much needed economic boost for many years to come."
More investment
In total, the report estimated that nearly 2.9m people visited the Wales Coastal Path in the survey period, with two-thirds of a million alone visiting stretches of path in Bridgend county borough.
In Pembrokeshire, an estimated 102,000 people visited the path.
Gill and Antoni Wislocka said that made a huge impact on their bed and breakfast business in St Dogmaels.
"The amount of interest from overseas was tremendous because of the worldwide publicity," they said.
"Our number of overseas visitors shot up by 30%, and accounted for over 40% of our overall guests at the B&B.
"People come once and they want to stay longer. They are led into exploring other aspects of the area."
The Welsh government said a further £1.15m would be spent on the path network in 2013-14, as part of the Coastal Access Improvement Programme managed by the Countryside Council for Wales.