S4C independence 'safeguard' as BBC partnership agreed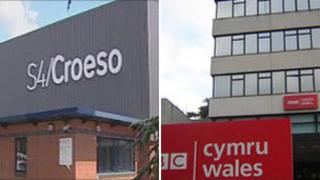 The independence of Welsh language broadcaster S4C has been safeguarded in an agreement outlining its relationship with the BBC, it is claimed.
The new partnership was agreed following public consultation over plans to fund most of S4C's activities from the BBC licence fee from April.
S4C will remain independent, also receiving UK government funding and generating its own revenue.
The S4C Authority called it a "historic development for Welsh broadcasting".
The BBC will contribute £76.3m from the licence fee in 2013-14 falling to £74.5m by 2016/17.
Both broadcasters said the agreement would ensure "the editorial, managerial and operational independence of S4C".
Huw Jones, chairman of the S4C Authority said: "This is an historic development for Welsh broadcasting which provides clarity for the new relationship between S4C and the BBC, while safeguarding S4C's independence.
"This operating agreement is the culmination of extensive discussions between the S4C Authority, the BBC Trust and numerous stakeholders and secures the major part of S4C's funding until 2017."
Lord Patten, chairman of the BBC Trust - the broadcaster's governing body - said: "I believe that through this agreement both organisations will be able to further develop Welsh-language broadcast media to provide a service that truly meets the changing needs and expectations of the audience."
The new funding arrangements were announced in 2010 by Jeremy Hunt, UK Culture Secretary at the time.
Plaid Cymru spokesperson for broadcasting Alun Ffred Jones said the UK government had "betrayed the people of Wales in changing the funding mechanism for S4C" but he welcomed the agreement.
"A strong relationship between both broadcasters is extremely important and I am glad that there appears to be a consensus," he said.
"I hope that the BBC will respect S4C's autonomy and its important role as the only dedicated Welsh language broadcaster."
Conservative heritage spokesperson Suzy Davies said S4C had a unique place in Wales' economy and culture, and its continued independence was "absolutely paramount".
Iestyn Garlick, chair of the Welsh independent TV producers' organisation TAC, said they welcomed changes to the proposed agreement, including an assurance over the importance of the independent sector in making programmes for the channel.
But he said concerns remained, including the prospect of further budget cuts by S4C.
The new partnership is separate from the agreement between BBC Cymru Wales and S4C last November which guaranteed the BBC's production of programmes for the Welsh language broadcaster over the next four years.
It safeguarded the statutory minimum 520 hours of programmes supplied by BBC Cymru Wales to S4C each year.