Welsh Rugby Union cuts Six Nations ticket prices for 2014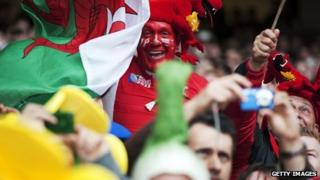 The price of tickets of some Wales home games during next year's Six Nations rugby tournament is to be reduced.
In a bid to avoid empty seats at games, the Welsh Rugby Union (WRU) said it wanted to support Welsh clubs and fans "in these tough economic times".
In 2014, Wales v Italy tickets will cost £25 to £65, which the WRU says is an 18% reduction.
Wales v Scotland will cost between £25 and £70 - a 12.5% reduction - but Wales v France will be held at £30 to £80.
The WRU said tickets for next year's tournament will be made available to all WRU member clubs across Wales in 2013 "at prices which will attract as many people as possible to our capital city in 2014".
Wales v Italy 2014 tickets will be priced at £25, £35, £55 and £65. The WRU says this is the same top price as a ticket in 2009 and represents a reduction of more than 18% on this year's prices.
Tickets for the Scotland game will cost £25, £40, £60 and £70, giving a 12.5% reduction on this year's top price.
Wales v France will be held at £80, £75, £50 and £30 - the same as this year's Six Nations home games.
'Challenging'
Additionally, there will be no increase on last year's prices for tickets for the 2013 Autumn internationals.
WRU group chief executive Roger Lewis said the union wanted to sell out all its games next year.
"The Welsh economy is in a very challenging place and it is not going to change for a number of years to come," he said
"We need to play our part to support our fans and support our communities and give them the chance to experience Wales in the Millennium Stadium next year."
He said he could have raised prices and sold fewer tickets but that keeping prices down he would probably bring in the same revenue but create a better experience for all fans.
"This Six Nations price reduction will assist all of our clubs and fans," he added.
"With three matches at home in 2014 the clubs and the fans can now start planning ahead with confidence."
Tickets for next year's tournament will first be made available to WRU member clubs later this year.
Home international tickets are initially distributed via the WRU member clubs or to debenture holders before remaining seats are sold to the public.