Holocaust Memorial Day: Carwyn Jones leads Wales ceremony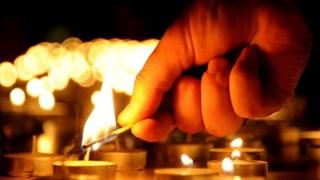 Welsh civic leaders will join tributes to genocide victims at a Holocaust Memorial Day service later on Monday.
First Minister Carwyn Jones will give a reading and lay a wreath at the ceremony at Cardiff's City Hall.
Civic and religious leaders at the event include South Wales Jewish Representative Council member Norma Golten, and Saleen Kidwai, secretary-general of the Muslim Council of Wales.
The theme for the 2013 commemoration is Communities Together: Build a Bridge.
People who escaped the Nazi Holocaust and their descendants have been commemorated in an exhibition at the Welsh assembly building in Cardiff Bay in the lead-up to the service.
It highlighted the story of the Kindertransport, in which the UK rescued some 10,000 Jewish children from the Nazi regime as it took control of Germany, Austria and Czechoslovakia.
Dr David Morris, of the West Glamorgan Archive Service, which helped create the exhibition, said: "There were Jewish communities across south Wales and along the north Wales coast.
"The [children] were matched off with Jewish parents from within these communities. That's why they came to Wales.
"We're talking hundreds. They are all very moving stories. Equally harrowing, equally inspirational.
'Appalling consequences'
"Jewish industrialists who had their property confiscated in the German Reich were able to get travel documents to come over to Britain, where they were encouraged to set up on industrial estates in areas of mass unemployment.
"By the 1940s around 40 Jewish businesses were in operation at Treforest. These people created thousands of jobs in an area of mass unemployment."
One of the people featured in the exhibition is George Sherman, seen as a baby being held by his grandmother in Vienna. He last saw her in April 1939 as his family left for Britain and eventually settled in Wales.
He said: "She didn't survive. She was murdered in one of the concentration camps.
"I can remember leaving Vienna. We came on an aeroplane. I can remember saying goodbye to my grandmother."
One of those attending the City Hall service will be Wales Office minister Baroness Randerson, who said: "Holocaust Memorial Day allows us to reflect upon the appalling consequences of persecution.
"It provides the opportunity to remember and pay tribute to those who have suffered and died as a result.
"It also reminds us of the courage shown by the survivors of genocide and the importance of learning lessons from these tragic events."