Wales weather: Floods shut roads in mid, west and north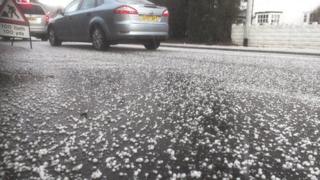 Flooding has affected some areas of mid, north and west Wales after forecasters warned of new problems as snow across much of the country thaws.
Five flood warnings and 22 flood alerts were in place early on Sunday evening.
Two Powys homes were affected by river water. Some Powys, Carmarthenshire and Gwynedd roads also closed after floods.
Firefighters used boats to try to rescue 12 sheep in the River Severn near the travellers' site at Welshpool, but only two could be saved.
Two fire service boat crews, from Welshpool and Aberystwyth, were helping with the rescue along with a wading team from Welshpool, he said.
He said the flood warning came too late for the farmer to move his sheep in daylight and the power of the floodwater had opened a gate which had allowed the sheep to roam until they were swept away by the rising river water.
He said: "This area is notorious for overflowing. The river has burst its banks on either side. The sheep have wandered into still water which has then risen more and cut them off."
Elsewhere, Arriva Trains Wales said buses replaced trains between Wrexham Central and Bidston until further notice due to flooding at Buckley. Journey times are being extended by up to 60 minutes.
The Cleddau Bridge in Pembrokeshire shut for a time to high-sided vehicles, and a blocked culvert caused flooding in Sardis Road car park in Pontypridd.
On Saturday the Environment Agency had warned of more localised flooding following serious problems mainly in west Wales on Friday night, when almost 300 calls were received by the emergency services, with Carmarthenshire, Pembrokeshire and parts of Swansea worst affected.
Mid and West Wales Fire and Rescue Service said on Sunday that there was flooding in Llanfyllin and Welshpool in Powys.
Two homes were affected by river water, and firefighters were helping in the clear-up.
There were a number of road closures early on Sunday:
The B4393 at Llanfechan north of Welshpool
The A458 between the A470 at Mallwyd, Gwynedd, and the A490 / B4381 at Welshpool
The A483 between B4344 at Llandovery, Carmarthenshire, and Llandrindod Wells, Powys
The A487 between the A489 at Machynlleth and the B4572 at Aberystwyth.
Further heavy showers followed on Sunday and were forecast to continue through to Monday, with unsettled weather likely into next week.