Wales weather: Flooding hits west, snow in the north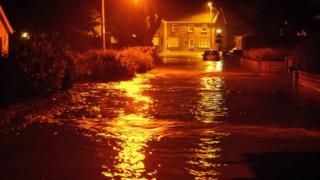 Flooding has hit many parts of west Wales, with the emergency services dealing with nearly 300 calls, while snow has affected the north.
Pembrokeshire, Carmarthenshire and Swansea all had floods, and there were smaller incidents in south east Wales.
Three flood warnings which were in force on Saturday morning have been removed, but six flood alerts remain, says the Environment Agency.
Snow particularly hit north east Wales on Friday night but most cleared later.
The Met Office had issued a yellow "be aware" alert for ice in eastern areas on Saturday morning following warnings of snow overnight.
But forecasters also warned that heavy rain later in the day, coupled with a rapid thaw in rising temperatures, may cause more localised flooding, accompanied by strong to gale force winds.
On Friday night fire crews in Pembrokeshire and Carmarthenshire said they were inundated with calls.
They were called to flooding in Whitland in Carmarthenshire and Narberth, Haverfordwest and St Davids in Pembrokeshire, among many others.
Mid and West Wales Fire Service said about 60 properties in Solva were threatened by a burst river.
Firefighters said the water was up to 3ft deep, and some properties were flooded.
Station manager Craig Thomas was one of about 25 firefighters dealing with flooding problems after heavy rain arrived, and he was called to Solva about 21:00 GMT.
He said: "The River Solva burst its banks at about 10.30pm, affecting or threatening about 40 to 50 properties.
"Crews from St Davids, Haverfordwest and Milford Haven were in attendance.
"We helped by trying to divert the floodwater.
"The river levels dropped at about 1.30am and we were able to pump a lot of floodwater away."
County councillor Lyn Jenkins in Solva said she had driven back from Fishguard in the worst conditions on the road she had seen in 43 years.
"Some of the road was totally under water," she said.
Dyfed-Powys Police received dozens of calls, including reports of roads becoming impassable due to flash floods and one of a stranded driver.
The Environment Agency had issued three flood warnings for Wales: the rivers Mawddach, Wnion and the town of Dolgellau; the river Cynin at St Clears, and the river Hydfron at Llanddowror, but they were later removed.
South Wales Fire and Rescue Service received a number of flooding calls to Merthyr, Bridgend, Pontypool, Tredegar, Cowbridge and Treorchy.
In North Wales, there were minor flooding incidents in Dolgellau.
Stagecoach said most of its services in south east and mid Wales were running, but some had been affected.
The Met Office said in its ice warning: "Following clearance of snow or rain, icy stretches will form in many areas, particularly on untreated surfaces. The public should be aware of possible hazardous conditions early on Saturday."
The rain is expected to clear, leaving Sunday windy with a mixture of sunshine and showers.
In north Wales, snow was the problem. Some roads such as the A470 Crimea Pass between Blaenau Ffestiniog and Dolwyddelan were impassable as snow fell during the evening rush hour.
Other problems were reported in the north east of the country.
The enhanced content on this page requires Javascript and Flash Player 9
Map Key
Land
Cloud
Lakes, Rivers & Sea
Fog
Light
Heavy
Frost
Light
Heavy
Pressure Fronts
Cold
Warm
Occluded
Rain
Light
Heavy
Extreme
Snow
Light
Heavy
Temperature tab only
Temperature (°C)
More details from BBC Weather