Cardiff Airport: Sharp drop in passenger numbers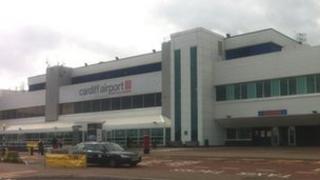 Cardiff Airport has seen a sharp drop in passenger numbers over the past year, provisional figures from the Civil Aviation Authority show.
Just over a million passengers flew through the airport in 2012, a drop of 16.1% or about 200,000 travellers.
The airport was hit by the withdrawal of flights by budget airline bmibaby in 2011, but says it expects 5% - 8% growth during 2013.
The Welsh government, which plans to buy the airport, declined to comment.
First Minister Carwyn Jones announced his government's intention to buy the airport after a slump in passengers in recent years from a peak of two million in 2007.
In contrast, it is estimated that 700,000 passengers from Wales were among the 5.7m flying from Bristol Airport - 24 miles (38km) from the Welsh border - in 2011.
Sources suggest it could cost the Welsh government "tens of millions" of pounds to buy Cardiff Airport from its current owner, TBI, to secure its future.
Mr Jones has said it would be run by an independent operator on his government's behalf.
He has also said it would not receive subsidies and it would make a "return to the Welsh taxpayer" as well as the private operator.
Despite the drop in overall passengers last year, the CAA figures show there was a small rally in December when passenger numbers increased by 1.6% compared to the same period the year before.
Spencer Birns, the airport's head of commercial operations, said it was expected that passenger numbers would "hit the very bottom" during 2012 as the full-year effect of bmibaby's departure was recorded.
But an 80% increase in capacity by airline Veuling, with Thomson and Thomas Cook also increasing their offering meant passengers numbers were expected to rise during 2013, he said.
He said: "If the market stays stable - if there are no volcanoes or an airline going out of business - we should be seeing growth in passenger numbers this year of between 5% - 8%."
The 1.6% increase in December's figures was an indication that that trend had started, he said.
He added: "The economic situation will have an impact on business-related travel.
"The biggest effect is the weather. People are fed up with rain. There is strong early booking this year already."