Wales weather: Snow and flood threat before thaw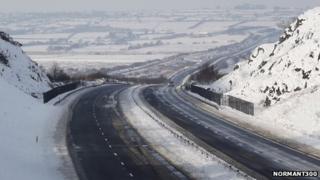 Wales is facing warnings of more snow and possible flooding following a night of plunging temperatures and several road crashes in icy conditions.
Forecasters say the north east will get the worst of the snow on Friday but mid and south Wales could also be hit before a possible thaw at the weekend.
Rain could cause problems in the south with Environment Agency Wales warning of a risk of localised flooding.
Temperatures overnight fell as low as -7C (19F) in parts.
South Wales Fire and Rescue Service said they were called out to several collisions in icy conditions in Cardiff, Abergavenny and Ebbw Vale on Thursday evening.
The A4061 Bwlch mountain road is closed in both directions because of ice while the A48 Cowbridge by-pass is closed westbound at Aberthin, in the Vale of Glamorgan, also because of ice.
Thursday brought a brief respite in the weather disruption as conditions eased after six days of travel problems and school closures.
Only 55 schools were shut across Wales and thousands of pupils returned to classes following Wednesday's problems.
Friday sees a return to more disruptive weather with a yellow warning of snow issued by the Met Office for north east Wales.
Forecasters also predict some snow in the south Wales valleys in the afternoon, and in mid Wales and the north generally.
But the heaviest snow will be in the north east, especially on high ground, possibly causing drifting and blizzards in the mountains.
Rain is more of a problem in the south with a yellow "be aware" warning from 15:00 GMT on Friday which, accompanied by thawing, could cause flooding.
Environment Agency Wales said the rain "could lead to the possibility of excess water on road surfaces on Friday and flooding from blocked drains and small streams".
"River levels could rise and flood alerts may be issued but the likelihood of flooding from larger rivers is low," said the agency.
"Care should be taken as driving conditions may be hazardous."
A thaw could be on the way over the weekend as wet and windy weather takes hold, including possible strong to gale force winds.
This could bring a risk of localised flooding and the chance of avalanche in the Snowdonia mountains.
Meanwhile, council leaders have been praising staff for their efforts during the cold snap.
Carmarthenshire council said it had around 3,526km (2,191 miles) of road and around 27% was salted when weather conditions demanded it.
Executive board member Colin Evans said: "I would like to thank all the highways staff, as well as the refuse and cleansing staff, who have been out working in freezing conditions. They really do a fantastic job and are a credit to the council."
The enhanced content on this page requires Javascript and Flash Player 9
Map Key
Land
Cloud
Lakes, Rivers & Sea
Fog
Light
Heavy
Frost
Light
Heavy
Pressure Fronts
Cold
Warm
Occluded
Rain
Light
Heavy
Extreme
Snow
Light
Heavy
Temperature tab only
Temperature (°C)
More details from BBC Weather