Carwyn Jones: Ireland crucial to Welsh economy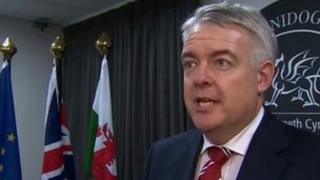 Irish firms are being encouraged to invest in Wales by First Minister Carwyn Jones in a speech to business leaders in Dublin later.
He will stress Ireland is Wales' second biggest export market, worth £1.5bn, and "crucial" to the Welsh economy.
Wales and Ireland should strengthen their business relationship to "drive recovery and accelerate growth", he will say.
The speech comes on the second day of his visit to Ireland.
He is addressing the first annual conference of the British-Irish chamber of commerce conference after holding talks with Irish President Michael Higgins on Thursday.
Mr Jones said: "We're very proud of our successful track record of attracting inward investment across sectors such as food, manufacturing and energy.
"Wales is perfectly located - we are close to Ireland and offer great access to the UK market."
In the week David Cameron promised an in/out referendum on EU membership should the Conservatives win the next general election, Mr Jones emphasised the importance of the European single market to Wales and Ireland.
"Despite the extremely challenging times we are experiencing, I truly believe that by coming together under the banner of the EU and the single market we will come through these stormy waters," he said.
"By focusing on strengthening the business relationship between our two nations we can drive recovery and accelerate growth."