Warnings for snow and flooding in Wales on Friday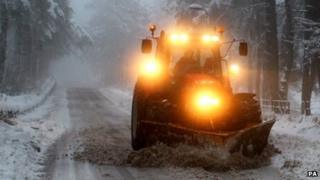 Wales is bracing itself for more weather disruption with warnings of snow and possible flooding on Friday following a brief respite.
A yellow "be aware" warning has been issued for snow in north east Wales and rain in the south on Friday.
The rain could lead to localised flooding.
Thursday saw weather conditions ease after six days of disruption, with earlier ice warnings lifted and only 55 schools remaining closed.
Thousands of pupils returned to classes after hundreds of schools had been shut the previous day.
The A4061 Bwlch mountain road in Rhondda Cynon Taf remained closed but conditions improved in west Wales after earlier warnings of hazardous driving conditions.
A yellow warning for ice relating to south and mid Wales was also lifted.
But the respite may only be temporary with forecasters predicting temperatures as low as -8C overnight and snow and heavy rain on Friday.
The Met Office snow warning for north east Wales is in place from 09:00 GMT on Friday with the possibility of travel disruption.
However, there remains uncertainty about how much snow will fall.
In south Wales, there is a warning for heavy rain from 15:00 GMT on Friday which, accompanied by thawing, could lead to flooding.
River levels
Environment Agency Wales said the rain could fall as snow in some places and was expected to continue into the night.
"This could lead to the possibility of excess water on road surfaces on Friday and flooding from blocked drains and small streams," said the agency.
"River levels could rise and flood alerts may be issued but the likelihood of flooding from larger rivers is low.
"Care should be taken as driving conditions may be hazardous."
On Saturday, there are further warnings for snow in north east Wales, and rain across almost the entire country on Sunday.
Wales has faced major disruption since snow first fell last Friday and left homes without power, and disruption to trains and buses.
One head teacher in Pembrokeshire described the conditions as "probably the worst" he had seen in 25 years.
The enhanced content on this page requires Javascript and Flash Player 9
Map Key
Land
Cloud
Lakes, Rivers & Sea
Fog
Light
Heavy
Frost
Light
Heavy
Pressure Fronts
Cold
Warm
Occluded
Rain
Light
Heavy
Extreme
Snow
Light
Heavy
Temperature tab only
Temperature (°C)
More details from BBC Weather