Alfred Russel Wallace's 19th Century letters go online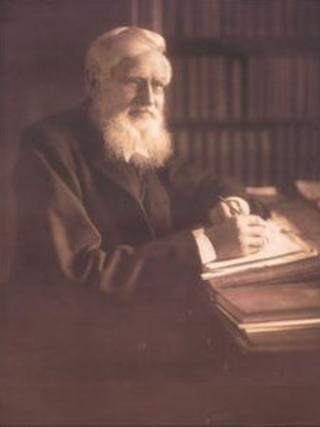 Letters written by scientist Alfred Russel Wallace, who proposed the theory of evolution by natural selection with Charles Darwin, will be published online for the first time.
There are around 4,500 personal and academic letters including his full correspondence with Darwin.
Letters from former prime ministers and celebrated authors and poets can also be read.
Wallace was born in Monmouthshire and died in 1913 aged 90.
The letters are kept in the collections of 100 institutions worldwide and the Wallace Correspondence Project has so far digitised about 95% of them.
Other undiscovered letters understood to be held in libraries and private collections around the world are being searched for.
The collection includes letters from David Lloyd George, William Gladstone, Rudyard Kipling, George Bernard Shaw and Arthur Conan Doyle.
Survival of the fittest
Dr George Beccaloni, director of the Wallace Correspondence Project and a curator at the Natural History Museum, said: "Collating, transcribing and making this material freely available online marks a huge advance in understanding this great man.
"It presents a wealth of new information for those interested in Wallace's life, work and beliefs. I hope it will help build a new and more accurate picture of him, and bring him out of Darwin's shadow."
Wallace, who was born in Monmouthshire and also lived in Neath, was the co-discoverer of the theory of evolution by natural selection.
This says that the "fittest" animals or plants are more likely to survive and reproduce.
Although this idea is often solely attributed to Darwin, it was in fact first published in a scientific article by both scientists, printed in August 1858.
Darwin published On the Origin of Species a year later.
Wallace did receive recognition during his lifetime, although he was largely forgotten after his death.
The online collection will be launched by comedian and naturalist Bill Bailey at the Natural History Museum in London.