Cost of a Child: Bringing up a child in Wales tops £207,000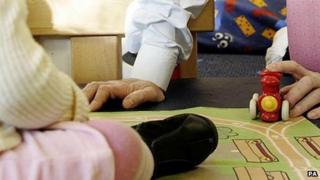 The average cost of bringing up a child in Wales has increased by nearly 50% over the last decade to £207,120, new figures show.
The annual Cost of a Child report says from birth to age 21 parents are spending £66,647 more than they did in 2003.
However, Wales is still one of the cheapest UK places to raise children.
Childcare, education and food continue to be the biggest outlays, the study for Liverpool Victoria insurance shows.
Save the Children Wales said it was yet another reminder of the immense pressure families are under.
The cost of education has escalated to £68,817 for each child in Wales, which includes uniforms, after school clubs and university tuition fees.
Childcare costs are also rising, with childcare and babysitters estimated at costing parents over £60,000.
Despite escalating costs, Wales remains the second cheapest place in the UK to bring up children behind the north east of England, where the average cost is £206,495.
Head of Save the Children in Wales, Mary Powell-Chandler, said: "The combination of soaring costs of living, benefit and welfare cuts and lack of affordable childcare threatens to push many more children in Wales into poverty.
"Our research shows that children are worrying about their family not having enough money, with more than half of those living in poverty saying the lack of it made their parents unhappy or stressed.
"It makes it all the more important that Welsh government raises the plight of children in Wales and intensifies action to combat child poverty and achieve the 2020 target."
According to the study, the most expensive place to bring up children is in London where it costs an average of £234,263. The UK average is £218,000.
However, Wales has still seen a rise of over £4,000 in the last year and the publishers of the report are warning that if the costs continue to increase at the same rate, the UK average will exceed £350,000 by 2023.
Ten years ago it cost an average of £140,473 to bring up a child in Wales.
A Welsh government spokesperson said: "We are concerned that the current UK Government changes to the benefits system, including child benefit, will have a significant negative impact on families in Wales during these tough economic times.
"Indeed, findings from our programme of research to assess the impact of the UK Government's welfare reforms in Wales suggest that households with children will be hardest hit by the reforms compared to working-age households without children and pensioner households."