Colwyn Bay Pier: Lottery bid includes arts centre plans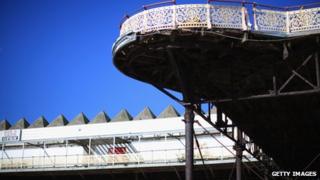 A new bid for lottery money to restore Colwyn Bay pier will include plans for an arts centre.
A £10m revamp of the grade II-listed pier was approved on Tuesday by Conwy council's cabinet.
The council hopes that about half of the money will come from the Heritage Lottery Fund (HLF), and a bid is due to be submitted on 8 February.
Proposals include working with Coleg Llandrillo and moving part of its arts department to the pier.
It will be the second time Conwy council has bid for HLF money, after an application for £4.6m was rejected last April.
A council report on the new bid says "initial discussions with funders suggest that an arts angle would be more attractive to them, and discussions with Coleg Llandrillo have resulted in a keenness on the part of their arts department to be engaged long-term".
The pier once hosted acts such as Morecambe and Wise, Elvis Costello and Harry Secombe, but its condition has been getting worse since it was closed in 2008.
If the latest lottery bid is successful, it will also mean repairs to the wooden decking and the metal structure underneath.
Ownership claim
A legal dispute over who owns the pier is due to go to the High Court in London.
Former owner Steve Hunt was made bankrupt in 2008 in a row over unpaid business rates and council tax.
He claims that after three years, the pier should have come back to him.
Conwy council says ownership transferred to the Crown Estate instead, and it signed a deal to buy the pier from the Crown Estate in March 2012.
Mr Hunt took his claim to Cardiff County Court in August 2012, but a judge ruled the pier should go to Conwy council.
He has been given permission to appeal to the High Court.
Conwy council's report advises against postponing the HLF bid until after the appeal is heard.
It says: "Whilst [the appeal] creates uncertainty, continued pressure in terms of interim management and progress of other linked regeneration projects means that to delay proposals to put together a funding package are impracticable".