Pentre Mawr 'glamping' business secure after planning deal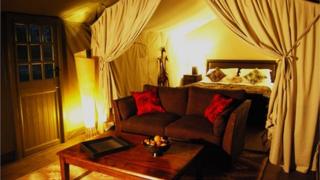 The future of a luxury camping business in Denbighshire has been secured after long running planning problems.
Graham and Bre Carrington-Sykes say they can now look forward to developing a 'glamping' site in the grounds of their hotel at Llandyrnog.
They were given planning permission in 2008 for six tents but could not afford repairs to a building on the site that officials insisted on.
Councillors have agreed to a new deal which staves off enforcement action.
The couple, who own the five-star Pentre Mawr Country House hotel, had built the six safari-style tents after initially being given planning consent.
They planned to cash in on the growing demand from campers who want a taste of the outdoors combined with a few home comforts.
The tents were fitted with beds, sofas, bathrooms and hot tubs and the couple began welcoming holidaymakers.
But with their hotel business hit by the recession, they found it financially impossible to comply with a planning condition requiring them to pay £5,000 a year for 10 years for the renovation of a dilapidated outbuilding previously used as a dairy and chapel.
The issue came to a head last September when the couple faced the prospect of enforcement action which could have led to the removal of the tented lodges, now a mainstay of the business.
But councillors decided to hold back for six months and after a series of meetings with officials, Mr and Mrs Carrington-Sykes have now worked out a fresh agreement with the council.
It was approved by members of the planning committee on Wednesday.
The deal means that the luxury tents will be allowed to stay and in return, the couple will pay a £3,000 bond which will be held by the council until renovation of the outbuildings is completed.
A qualified stone mason has been engaged to begin the work.
"We're delighted and relieved at the outcome," said Mrs Carrington-Sykes.
"It's a realistic way forward that enables our business to survive. Without glamping, we just wouldn't have a business."
She said that after two years of wrangling, council officials, local councillors and their AM Ann Jones had been "fantastic" in helping to reach a compromise.