Royal succession: Female heir 'should be' Princess of Wales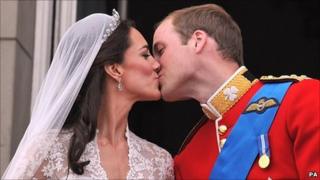 An MP will raise in Parliament whether rules should be changed to let a future female heir to the throne take the title Princess of Wales.
It comes as plans to change the order of royal succession is debated - currently women are superseded by their brothers even if they are first born.
The title of Prince of Wales is currently given to the eldest son of the monarch.
Caerphilly MP Wayne David said it was important to "move with the times".
He intends to raise the issue during a debate on the second reading of the Succession to the Crown Bill in the House of Commons today.
"We're talking about the future head of state and I think people in Wales feel very strongly about the Prince of Wales and I think, logically, and in fairness, there should be a Princess of Wales in future if the heir to the throne is a woman," he told BBC Wales.
The proposed shake-up is regarded as long overdue by constitutional experts and equality campaigners.
'Symbolic'
New legislation would end the principle of male primogeniture.
The government hopes to speed the changes through Parliament.
"I think it sends out a positive message that the people of Wales have a direct representative and we're fully locked into the monarchical system of government and I think it's symbolic because the role of Prince of Wales does not automatically bestow any rights or privileges or responsibilities but as a powerful symbol, really, that Wales is an integral part of the United Kingdom," Mr David said.
The government has said current laws, dating back to the 1701 Act of Settlement, are "old fashioned" and must be made "fit for the 21st Century" while the reforms also have the backing of the opposition.
The Succession to the Crown Bill will also remove a requirement for descendants of George II to seek permission to marry from the monarch, dating back to 1772, replacing it with a requirement for the first six people in the succession to seek the sovereign's consent.
It also proposes to remove a restriction preventing an heir from succeeding to the throne if they married a Roman Catholic.