Coast too low a priority for Welsh government say AMs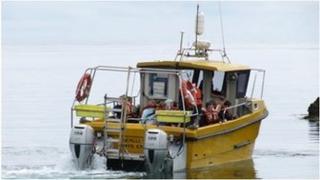 The coast has not been a high enough priority for the Welsh government, despite more than 92,000 jobs depending on the sea, a report says.
A committee of AMs says the Welsh government has made slow progress and not delivered on some responsibilities.
Ministers are considering creating up to 10 sea conservation zones where fishing could be restricted, but AMs criticise the handling of the process.
The Welsh government says it will consider the report and respond later.
In its report, the cross-party Environment Committee says there is "considerable concern" about the way the Welsh government has consulted on proposals for the highly-protected zones off the coast.
Creating the zones could mean banning fishing, dredging and anchoring, and a task and finish group was announced in November to examine the responses to a consultation.
The committee supports the decision but says the Welsh government could have avoided some of the hostility it has created by taking the decision earlier.
The Welsh Fishermen's Association has previously said existing conservation networks for Welsh waters are adequate.
The committee says AMs were concerned about the level of priority given to the marine environment, even though it contributes £2.5bn to the Welsh economy.
Committee chairman Lord Elis-Thomas said: "We hope that the Welsh government takes this report as a wake-up call.
"When the Welsh government requests devolved responsibilities it must take these responsibilities seriously.
"Regrettably, we have found that the Welsh government has failed to afford these responsibilities sufficient priority."
The situation was not irretrievable, but required swift action, he added.
A Welsh government spokeswoman said: "We have received the environment and sustainability committee's report on marine policy in Wales. We will fully consider its findings and respond formally in due course."